SenseCAP ONE S900 Weather Station and Smart Pole Applications in Smart City Scenarios
SenseCAP introduces the new S900 weather sensor for application in smart poles in intelligent cities.
We have just released our new SenseCAP ONE S900 weather and air-quality sensor. And in this blog, we will talk about the exciting application of the weather sensors in smart poles for smart city applications.
The internet of things promises to improve urban life with the help of new technology and ultra-fast connectivity. Smart cities are a new concept of urban planning which turns a city into an intelligent connected network of objects and machines that can collect data, transmit data and improve efficiency by using cloud computing. The smart city ecosystem allows citizens to engage with it by connecting them to the network and infrastructure through their mobile devices, connected cars or other smart devices.
The concept can also help city planners improve urban life by providing real time information on environmental conditions like noise, air quality, weather and other important parameters. Equipped with this information, communities can improve their energy distribution, streamline trash collection, combat traffic congestion, and improve air quality.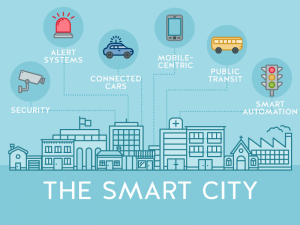 To maximize the potential of smart cities, new infrastructure has to be built that covers the whole city. This new infrastructure will comprise different sensors to monitor the environment and interfaces for citizens to connect with the smart city. An idea that has become increasingly popular in recent years is to transform light poles into the so-called smart poles.
Smart poles
New IoT technology can transform traditional streetlights into next-generation intelligent lightning platform with expanded capabilities. Choosing lightning poles as the infrastructure to upgrade with IoT technology has many advantages. Light poles usually belong to a city, so the infrastructure does not have to be built on private land and they are distributed over the whole city, close to streets and accessible to pedestrians.
As an inseparable part of the new infrastructure, the smart pole applications usually include the following devices and services:
5G base station & WLAN
Streetlight
Surveillance camera
Face recognition system & device
Traffic control and guidance system
Speaker, radio, and display
Charging pole for drones
Charging pole for electrical vehicles
Contactless parking payment system
Guidance system for driverless cars
And more
Smart poles serve many purposes.
They can provide 5G network or Wi-Fi coverage to the surrounding areas. The streetlights will be turned on/off based on the ambient conditions, which is more energy friendly and efficient compared to the traditional way of controlling with a fixed time or dispatching people to turn them on/off manually. The CCTV camera can provide guidance and suggestions for optimal traffic management; while monitoring and providing alerts for abnormality. With the emergency button, citizens can call for help such as aides and emergency services during accidents conveniently.
With the weather sensors added to the smart poles, it's possible to monitor and gather gridded weather data, which is highly valuable for the smart city applications. The weather data will be indicators for the municipality to better trace the source of certain pollutions, hence take a quicker action to tackle the problems. The rainfall data can help companies such as food delivery service providers to better arrange their workers and optimize the routes for delivery, etc. There are tons of application possibilities of the weather data, no matter for public or private sectors.
Smart poles and SenseCAP ONE S900
The new SenseCAP ONE S900 weather station is equipped with the most-commonly-used environmental sensors that a state-of-the-art smart pole needs. It has 6 weather sensors (air temperature, relative humidity, barometric pressure, precipitation intensity, wind speed, wind direction, light intensity, PM2.5 and PM10).
SenseCAP ONE S900 provides accurate and highly localized weather information to streamline traffic, help first responders and warn citizens in case of extreme weather events and emergencies. In recent years, the research has shown the negative influence of air pollution on human health. Having real time, gridded data on air pollution such as PM2.5 and PM10 can help locate the source of air pollution and improve the air quality and health of citizens. The SenseCAP ONE S900 is also IP66 rated to withstand extreme weather conditions, and prevent water, dust and dirt from entering.
About SenseCAP
SenseCAP is a series of industrial IoT products build to provide accurate environmental data in harsh environments. The SenseCAP ONE is our new series of weather stations for different applications like environmental monitoring, smart agriculture and smart cities.
SenseCAP ONE series:
SenseCAP ONE S900 measures: PM2.5, PM10, Temperature, Humidity, Barometric, Pressure, light intensity, rainfall, Wind Speed and Direction
SenseCAP ONE S700 measures: Temperature, Humidity, Barometric, Pressure, light intensity, rainfall, Wind Speed and Direction
SenseCAP ONE S500 measures: Temperature, Humidity, Barometric, Pressure, Wind Speed and Direction
You can see some collections of SenseCAP user cases here. Wanna learn more about Seeed industrial IoT products and grab some to build your own IIoT applications now? Please kindly click here. Welcome to share with us your ideas of weather stations' applications in smart poles, smart city and other scenarios!