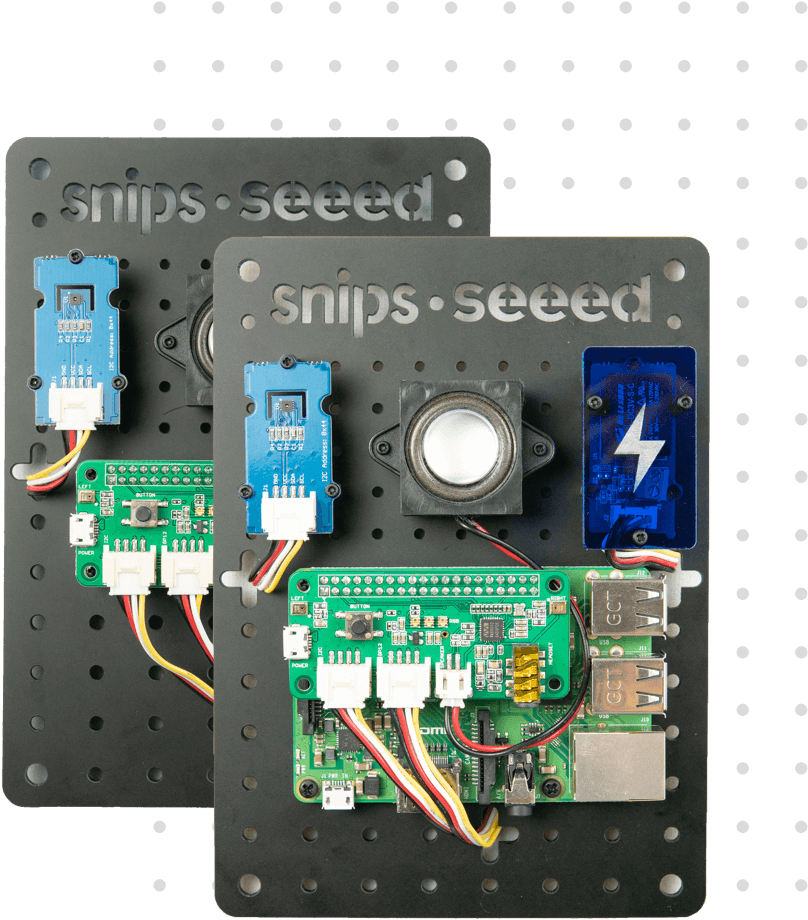 Voice Interaction Development Kits
Infinitely Hackable. Open Source. Private by Design.
A complete DIY smart speaker for your home, combining the latest Seeed hardware with the Snips AI Voice Platform, powered by a Raspberry Pi. Explore voice projects from the Snips community and start building with Seeed and Snips today!
Order Now
Documentation
In your
Voice Interaction Base Kit
The Base Kit includes the latest Seeed hardware components to easily build a powerful AI Voice Assistant, develop customized apps, and deploy to your connected devices. Featuring on-device processing via the Snips offline ASR/NLP engine, your voice data is never sent to the cloud, ensuring privacy and security.
Order Base Kit
$115
Private by Design

On-Device

HD Speaker

Far-Field Mic Array
15
Grove - Temperature & Humidity Sensor (SHT31)
22
Power Adapter with Micro USB
Customize with Additional Hardware
Unlock your home with multi-room voice control.
Voice Interaction Satellite Kit
The Voice Interaction Satellite Kit relays your voice commands to the Base Kit for processing, without the need of an internet connection. You can arrange multiple Satellite Kits throughout your home to add new functionality to the Base Kit or any other smart speaker, extending your voice control across several rooms.
* All Satellite Kits require a Base Kit or Raspberry Pi 3 B+ in order to operate as intended
Order Satellite Kit
$85
Learn More
Private by Design

Multiroom

Offline

On-Device
15
Grove - Temperature & Humidity Sensor (SHT31)
22
Power Adapter with Micro USB
Even More Add-Ons
With an open hardware design, the Voice Interaction Development Kits are
built to be customized with your own sensors or other mic boards.
See what people are building with Snips
Step-by-step walkthroughs of all the new capabilities & things you can do with Snips. Ready to
share your voice assistant with the world? Publish your apps today.
SNIPS HACK

Control Velux Home Shades with Voice

Nov 18, 2018

BLOGPOST

How to Build a Voice-Controlled Speaker that Protects Your Privacy

Oct 16, 2018

DOCUMENTATION

Control Parrot Bebop 2 Drone with Voice

Nov 3, 2018
Join our community of makers on a mission to
Bring ideas to life with voice