DockerPi Sensor Hub Development Board
PRODUCT DETAILS
Description:
The DockerPi SensorHub for obtaining environmental parameters in the Internet of Things.
It integrates various environmental sensors: temperature sensors, humidity sensors, air pressure sensors, lighting, and thermal imaging sensors.
You can use them in smart homes.
To obtain various parameters in life, these parameters can be processed to control the home reasonably and intelligently.
For example, the temperature of the temperature sensor can be used to control the heating device or the air conditioner.
The thermal imaging sensor can detect if someone is in the living room.
Features:
DockerPi Series
Programmable
Read directly(without programming)
Extend the GPIO Pins
Ext. Temperature Detection, Thermistor Detection Temperature Range -30℃~127℃
OnBoard Temperature DHT11 -20℃~60℃
P. Temperature Sensor -40℃~80℃.
Humidity detection, sensor detection range 20% Rh ~ 95% Rh
Light intensity detection, detection range: 0Lux~1800Lux
Pressure detection, detection range: 300 Pa ~ 1100 hPa
Biopsy test (biopsy test with the corresponding indicator), maximum detection angle of 100 degrees, the maximum distance of 12m
Can Stack with other Stack board
Independent of the mainboard hardware (require I2C support)
Mechanical Drawings
Part List:
1 x Sensor Hub development board
4 x M2.5x12 copper stick
8 x M2.5x6 screws and nuts
1 x NTC temperature sensor (waterproof)
1 x Introductions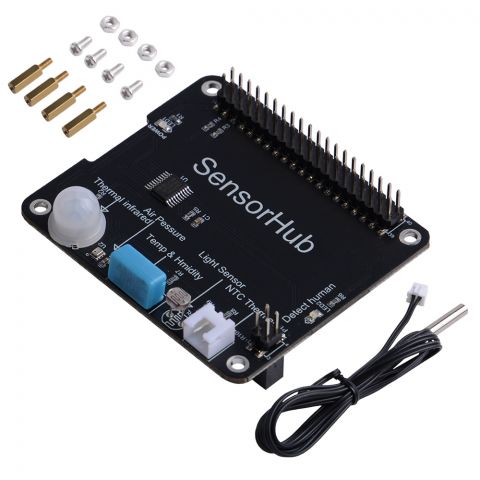 ECCN/HTS
| | |
| --- | --- |
| HSCODE | 9025900090 |
| USHSCODE | 9026104000 |
| UPC | |
| EUHSCODE | 9013101000 |
| COO | CHINA |
REVIEWS
This user did not leave any comments.

This user did not leave any comments.