Grove - Oxygen Sensor(ME2-O2-Ф20)
High-precision High sensitivity Wide linearity range Strong anti-interference ability Extraordinary reliability
Grove-Gas Sensor (O₂) is a kind of sensor to test the oxygen concentration in air, which is based on the principle of the electrochemical cell to the original work. You can know clearly the current oxygen concentration when you output voltage values proportional to the concentration of oxygen and refer to the oxygen concentration linear characteristic graph. It's very suitable for detecting oxygen concentration in environment protection.
Note
The sensor value only reflects the approximated trend of gas concentration in a permissible error range, it DOES NOT represent the exact gas concentration. The detection of certain components in the air usually requires a more precise and costly instrument, which can not be done with a single gas sensor. If your projects aim to obtain the gas concentration at a very precise level, then we do not recommend this gas sensor.
Features
High-precision

High sensitivity

Wide linearity range

Strong anti-interference ability

Extraordinary reliability
For all Grove users (especially beginners), we provide you guidance PDF documents. Please download and read through Preface - Getting Started and Introduction to Grove before your using of the product.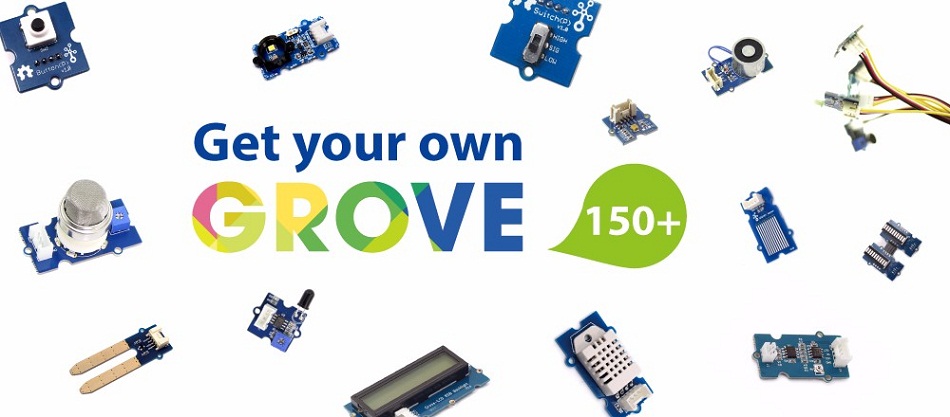 Technical details
| | |
| --- | --- |
| Dimensions | 20mm x40mm x20mm |
| Weight | G.W 0.033g |
| Battery | Exclude |
| Input voltage | 3.3V / 5V |
Part List
| | |
| --- | --- |
| Grove - Gas Sensor (O2) | 1 |
ECCN/HTS
| | |
| --- | --- |
| ECCN | 2B351 |
| HSCODE | 9027100090 |
| USHSCODE | 90230000 |
| UPC | 841454108313 |
Grove - Oxygen Sensor(ME2-O2-Ф20)
This is the wiki page for this product, which will show you how to use the product, as well as details about the software and hardware.
Product Faqs
---
Why is this design driving the Winsen into 100 ohms, when it is only rated to drive into 10K ohms?

Question by: Dave Evans on 2019-05-10 20:57:37

Hi there, The sensor is current sensor. when it is in 20% O2 environment, the output current is around 120uA. the circuit is amplified by 201. The resistor R7 is 100ohm. So the output voltage is around 120uA * 100 ohm * 201 =2.4V. I supply the 5v to the VCC, i use the multi digital meter to measure the signal pin and it is around 2.4v. thanks.

Answer by: admin on 2019-05-23 04:11:23

Question by: admin on 2018-12-18 02:34:15

The range of detecting is 0% to 25%.

Answer by: admin on 2018-12-18 02:34:15

Question by: admin on 2018-12-18 02:34:15

The input voltage of this product is 5v, and as for current :"Current Limit Circuit Built-in"

Answer by: admin on 2018-12-18 02:34:16

Question by: admin on 2018-12-18 02:30:31

Hi there~ The O2 sensor needs about 20-30 minutes to preheat, and right now it is noly compatible with Arduino. Please tell us more detail, so that we can help you.If you can take a picture or a screenshot of the data will be better. You can email us via # techsupport@seeed.cc # Regards.

Answer by: admin on 2018-12-18 02:30:31

Question by: admin on 2018-12-18 02:30:19

Yes, we support delivery to Malaysia,shipping time depend on the logistic mode, After adding all your items to the shopping cart, in the checkout step, please fill in your shipping address, the system will calculate the accurate shipping fee via different shipping options before you pay the order.

Answer by: admin on 2018-12-18 02:30:19

Question by: admin on 2018-12-18 02:30:16

Hi there~ You can send an email to ### order@seeed.cc ### Regards

Answer by: admin on 2018-12-18 02:30:16

Question by: admin on 2018-12-18 02:29:56

Hi~ Please follow the wiki. If still does not work,please email us and provide more detail , such as photos of your hardware connection and your log ,it will be helpful.The email address as folow.Regards ========================================================================== techsupport@seeed.cc

Answer by: admin on 2018-12-18 02:29:56

Question by: admin on 2018-12-18 02:29:33

Hi there~ It is plated. Regards

Answer by: admin on 2018-12-18 02:29:33

Question by: admin on 2018-12-18 02:24:25

Hi, there~yes, of course, Regards!

Answer by: admin on 2018-12-18 02:24:25

Question by: admin on 2018-12-18 02:24:21

Hi there, we used 1 meter wire previously and it can read the sensor data correctly. But we do not test the up limit. thanks.

Answer by: admin on 2018-12-18 02:24:21

Question by: admin on 2018-12-18 02:23:55

Hi Jeff, Please give a try this code. **https://github.com/SeeedDocument/forum_doc/raw/master/reg/Read_O2_value.zip** thanks.

Answer by: admin on 2018-12-18 02:23:55

Question by: admin on 2018-12-18 02:23:43

Hi there, please send mail to order@seeed.cc. thanks.

Answer by: admin on 2018-12-18 02:23:43

Question by: admin on 2018-12-18 02:23:42

Hi there, please drop mail to order@seeed.cc. thanks.

Answer by: admin on 2018-12-18 02:23:42

Question by: admin on 2018-12-18 02:23:42

Hi there, please send mail to order@seeed.cc. thanks.

Answer by: admin on 2018-12-18 02:23:42

Question by: admin on 2018-12-18 02:23:39

Hi there, you can not solder on the ME2-O2 pins, you can solder on the grove connector. we provide all the detail info on wiki. please let us know what else you need. thanks.

Answer by: admin on 2018-12-18 02:23:39

Question by: admin on 2018-12-18 02:23:12

Yes, we support dilivery to Sri Lanka, it does not include import duties, you need to deal with import duties,please send email to order@seeed.cc , they will help you deal with the sample.

Answer by: admin on 2018-12-18 02:23:12

Question by: admin on 2018-12-18 02:21:19

According to the code, the concentration = Vout*100*0.21/2. So do a simple math, 25%--2.38V 20%---1.90V 15%---1.42V But this is just a theoretical value,cause the relation between concentration and voltage is not strictly linear.So the real value should be a little bit different

Answer by: admin on 2018-12-18 02:21:19

Question by: admin on 2018-12-18 02:20:53

Hi there, Yes, it works, just connect the gnd and vcc, then connect the analog signal to any analog pins. thanks.

Answer by: admin on 2018-12-18 02:20:53

Question by: admin on 2018-12-18 02:20:27

Hi there,Sorry, the correct current is 0.1~0.3mA.thanks.

Answer by: admin on 2018-12-18 02:20:27

Question by: admin on 2018-12-18 02:20:26

Hi there,Sorry, the correct current is 0.1~0.3mA. thanks.

Answer by: admin on 2018-12-18 02:20:27

Question by: admin on 2018-12-18 02:20:25

Hi there,Sorry, the correct current is 0.1~0.3mA. 130~200mA is wrong number. it is our mistake. thanks.

Answer by: admin on 2018-12-18 02:20:25