Rainbowduino Carnival 2010: Vote now!
A year been passed, and it is the time to vote again for your favorite Rainbowduino projects! This year we collected 6 awesome projects, let's check them out!
(Please vote at the bottom of the post. Poll expires on 25th, Jan)
Some details about this project:
Hardware: 1x Arduino, 1x Rainbowduino, 1x DIY Led Matrix
Firmware: neorainbowduino
Processing Sketch for the whole animation
I created the RGB Matrix myself (build process here). The RGB matrix' size is about 70cm x 70cm x 20cm. It took me about 40h to create the RGB matrix myself.
The Invaders are generated by using prestored "images", mixing prestored images and mutating prestored images.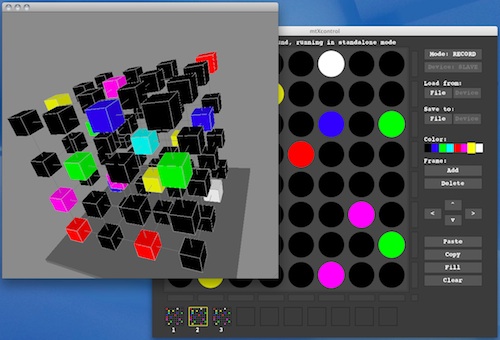 Do you remember the mtXcontrol, the Rainbowduino Editor and the awesome Seeedstudio Rainbow Cube? Now it's time  to bring them together.
cubeXcontrol is an editor to control and create patterns for the 4x4x4 RGB Rainbow Cube powered by a rainbowduino. It comes with an extra window showing a 3D model of the Cube, allowing to rotate in all directions and to zoom. Click on boxes to set the LED color easily.
I wanted to have something really usable for the livingroom. No laptop pushing over Data, wires lying around, Seeeduino to Rainbowduino etc
So i built a Coffeetable with a handsoldered 64 Superflux Pixelmatrix and the Rainbowduino. It uses a 9V PSU, but can also be powered via Battery.
To keep an environment-friendly approach, every possible part was made with recycled resources – the matrix of cardboard is made from the packaging of the table, the wooden floor and side parts of the led-matrix-housing are repurposed from an old cabinet.
I wanted something that both showed off the awesomeness of the Rainbowduinos + RGB LED matrices, and was also useful. I also wanted a huge digital clock in my room, so I made one that sets itself, changes color with the time, and can play animations!
Hi, I made this "little" 2 meters by 1 meter (12cm depth) wall using 1 wireless router asus wl500gp, 1 seeeduino (arduino) and 2 rainbowduinos and 128 RGB LED's (16×8).
Frame is made of laminated chipboard (18mm) 2 meters by 1 meter, back side is made of 4mm plywood on which holes are dilled for LED's. LED's I bought were not difussing colors nicely (you could see 3 separate circles for each color, but they were very cheap) so I had to improvise and I glued 1.5cm by 1.5cm peace of ……
Some details about this entry:
Hardware: 1x Seeeduino, 4x Rainbowduino's, 4x RGB LED Matrix

Firmware: neorainbowduino

Processing Sketch for the whole animation

The 4 Rainbowduino's are connected via I2c

The sketch is showing some blinkenlight's animation files (the ccc project), using my blinkenlight's Processing library

I added some kind of beat detection (using the minim library) and volume detection – the movie should play faster if the volume goes up or if a beat is detected

each movie is randomly colorized

This code should show, how easy it is to use the neorainbowduino firmware.
[polldaddy poll=4386646]
About Author