What are the M.2 form factor, PCIe, and SATA Interfaces?
We received a lot of feedback from our community and they were excited about the interfaces on the ODYSSEY-X86J4105:1 x M.2 SATA, 1 x M.2 PCIe, and 1 x SATA III with 3 x SATA III power connectors. Furthermore, we will bring you a new adapter to help you attach more than one SATA III HDD to ODYSSEY-X86J4105: An M.2 PCIe to SATA adapter.
In today's blog, we will list and explain the above-mentioned important interfaces and
Difference between M.2, PCIe (NVME) and SSD
M.2 SATA
M.2 PCIe
SATA III
3 x SATA III power connectors
M.2 PCIe to SATA adapter
What are M.2, PCIe (NVME), and SSD?
In general, hard drives can be divided into three categories:
Hard Disk Drive (HDD), Solid State Drive (SSD), and Hybrid Hard Drive (HHD). Regular interfaces can be divided into SATA, MSATA, and M.2.
M.2 connector supports SATA SSD or NVMe (PCIe) SSD.
Usually, M.2 interfaces on the laptop support both types of SATA SSD and NVMe (PCIe) SSD. The M.2 interface is in small size; however, the disadvantage is poor heat dissipation.
The M.2 connector
The M.2 connector can access PCI-express(PCIe) 3.0, SATA 3.0 or USB 3.0 bus, depending on the type of M.2 device connected. M.2 is very popular due to its versatility and the size of the M.2 device
M.2 SSD
M.2 SSD for laptops, the storage capacity of M.2 SSD can be up to 2TB. In addition, some fast SSDs use the NVMe interface, which is designed for fast storage devices and faster bandwidth than SATA.
The M.2 SSD drive is very small. You can directly connect the M.2 SSD to the motherboard through the M.2 slot. This is different from traditional SATA-based drives, which rely on cables to connect to the motherboard and power the drives. In a system that uses multiple storage drives, the M.2 SSD drive is very convenient
SATA and SATA III
SATA is also known as Serial ATA. It is a computer bus, mainly used for data transmission between the motherboard and a large number of storage devices, such as hard disks.
The SATA III interface (also called SATA 6Gb/ s) is the third-generation SATA interface that runs at 6.0Gb/ s. The bandwidth throughput supported by the interface is up to 600MB/ s. SATA III doubles the maximum data transfer rate compared with previous Serial ATA storage interface.
PCIe
PCIe stands for PCI Express, which is a high-speed serial computer expansion bus standard.
PCIe is a universal interface for computer graphics cards, hard drives, SSDs, Wi-Fi, and Ethernet hardware connections.
PCI Express uses the point-to-point serial connection. Compared with the shared parallel architecture of PCI and earlier computer buses, PCIe provides devices their own dedicated connection and can transfer the data rate without the requirement of bandwidth from the entire bus.
PCIe has a higher frequency to achieve higher bandwidth that PCI cannot provide. Compared with the traditional PCI bus which can only achieve one-way transmission within a period of time, the duplex simplex connection of PCI-E can provide a higher transmission rate and quality.
PCIe or SATA?
There are two kinds of interfaces on Hard Drives.
In a traditional SATA hard disk, data is firstly read from the hard disk to the memory, and then the data is extracted into the CPU for calculation and written to the memory after calculation. Finally, the data will be stored in the hard disk. However, PCIe is different. The data through PCIe can be directly connected to the CPU directly through the bus. The maximum amount of data can be transferred through a speed close to the maximum transmission speed.
M.2, PCIe (NVME)
M.2 SSD based on NVMe (Non-Volatile Memory Express) will drive much faster by accessing the PCI-express interface. NVMe drives can run at the speed that flash memory has. NVMe technology enables SSD to read and write at an extremely high speed.
M.2 PCIe to 2 Port SATA RAID 1 Adapter (Coming Soon!)
We have been working on a module for quite a while that could convert the M.2 PCIe port into a 2 Port SATA connector and planning to bring it to you very soon. Through this module, you could easily add a SATA RAID 1 on the ODYSSEY – X86J4105, in order to improve the storage performance for NAS projects.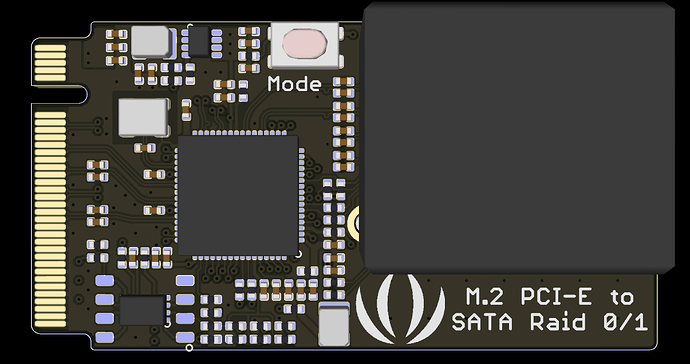 We have almost finished the design and the module will be coming out in May.