#MonthlyWrap-up So You Don't Want to Miss any Updates from Seeed?
We've finally had a monthly wrap-up of every single piece of valuable news!
Hey community,
We have gotten dozens of requests over the years for a Seeed Monthly Newsletter. Although we already have a weekly newsletter for product updates, we still need a place to host overall information about what's happened on a monthly basis. It can offer an efficient and friendly way to get updated for the whole community.
So here it is in all its glory – Seeed Monthly Wrap-ups. Instead of putting it a subscribe-to-read, we're going to publish them on our blog, keeping it as open and accessible as possible for the whole community. We'll have Community & Ecosystem, Industrial IoT Solutions, Open Hardware Modules, Customization & Manufacturing, and Seeed Ecosystem as the main sessions to wrap up our updates. These sessions closely correspond with all our core values and businesses.
Now, please enjoy the very first entry of our Monthly Wrap-ups.
01 Community & Ecosystem
This session will embrace some featured projects emerging in the community, and some hottest technical topics at our forum. In this session, we will also include some important updates regarding to corporate news and something excited happens in Shenzhen that we would love to share with you.
Project Spotlight of May
Feature Project 1: AI Nose by Benjamin Cabe, click to learn more.
Featured Project 2: Smart Snoring Correction with Raspberry Pi and reSpeaker by Bryan & Brayden Staley, click to read the tutorial.
Featured Project 3: Talking Fennec Fox Companion Bot that could recognize your words, by Alex Glow, click to get more information and tutorial👉https://lnkd.in/gum4VGd
Meanwhile in Shenzhen
To celebrate this year's Earth Day, we at Seeed would love to invite all of you to explore some eco-friendly applications and projects that originated from our community. In this way, you could explore the connections between every one of us and Mother Earth, learn about how open technologies leverage environmental conservation and get inspired for your next #RestoreOurEarth tinkering. 📖Learn more.
02 Industrial IoT Solutions
We would love to share our journey of developing and deployment of IIoT solutions, including successful cases, applications, and industry insights.
Successful Case & Applications
Want to know how SenseCAP LoRaWAN wireless sensors and gateways can be applied in food traceability? Seeed works with Baoneng on a "food tracking" project in its storage warehouse to ensure the surrounding environment is suitable for storing products. This project secures the products in the agriculture, food, and health industry with commodity tracking technology, Seeed environmental monitoring end nodes, and the construction of an application system. To provide the optimized environment and best condition for food commodities in its cold storage warehouse, Baoneng applies Seeed environmental monitoring solution in this project. 🤖️More details: https://lnkd.in/gBtzbPU
How important is the digital transformation in agriculture that is occurring due to IoT and how can we take advantage of this trend to improve farming practices? What is the role of IoT technologies, specifically LPWAN (eg. LoRa) playing in modern and future farming? This piece has all the answers to these questions, with plenty of successful cases in agritech that we did. 📖Learn more👉https://lnkd.in/gQCq8eY
Preparing for Real Scenarios
The design quality of all SenseCAP IIoT devices is proven through extensive performance tests. We firmly believe that quality control is fundamental for environmental monitoring sensors, and is the necessary final stage before the release of all Seeed products. Here we write a blog to introduce selective performance testings SenseCAP ONE Weather Station went through, and hope it gives you a better understanding of the design quality, structure, and material of SenseCAP ONE and how it is robust enough to stand in a harsh environment. 📖Read more: https://lnkd.in/dCZAP4R
03 Open Hardware Modules
New releases, technical updates, and all things worth sharing related to our open modules.
New Releases
Hello World of AI! Seeed introduces your next AI solution device. Seeed is partnering with Edge Impulse to introduce your first embedded AI-powered toolset to build the next smart IoT project. TinyML with Wio Terminal course for beginners to help them get started step by step. 📖Learn more here.

#Newrelease We're happy to add a series of RP2040 microcontrollers into our product family. It consists of Raspberry Pi Pico enrichments, Wio RP2040 development boards, and modules with wireless capability to expand the application scenarios of Pi Pico and related RP2040 dev board. Bring your Raspberry Pi Pico to the next level of IoT projects with our RP2040 microcontrollers!📖Learn more: https://lnkd.in/gWuhPGQ
Product Updates
In an effort to democratize IoT for mainstream adoption, Microsoft announced IoT Plug and Play, which offers a more convenient and efficient approach to developing IoT solutions. We're happy to share that our reTerminal has joined the Azure Certified Device catalog with the IoT Plug and Play certification! 📖Learn more👉https://lnkd.in/gj7vtk2
Our Wio Terminal is now supported by the latest version of Azure SDK! A sample code was released for utilizing the Azure Arduino SDK to connect the Wio Terminal to Azure IoT Hub, sending telemetry data in a loop function while listening to direct method requests. 📖Read more about the updates: https://lnkd.in/gq8EtZ4
We're happy to share that three more accessories (including the Watchdog VL53L0X ToF Sensor, Dust Sensor HM3301, and LCD display ) for the Wio Terminal are now also Azure IoT Plug & Play Certified to help you build IoT solutions more effectively with the Wio Terminal and Azure IoT! 🤖️More to read:https://lnkd.in/gwcM8Jr
Product Reviews
Our Grove Starter Kit for Raspberry Pi Pico is listed on the Official Raspberry Pi Magazine MagPi. A huge thank you to Lucy Hattersley for the review. 💻Learn more about the review: https://lnkd.in/g7Q-s7i
Reviews on BeagleV from the beta users: Search the tag #beaglev on LinkedIn, you could explore all these lovely feedbacks from community members who participated in the beta testing.
04 Customization & Manufacturing
In this session, you could get a closer look at how we help the community to bring their ides to market with our prototyping, customizing, manufacturing and drop shipping services.
Prototyping
We're happy to announce that we've joined Altium®'s Cloud-based Nexar Inc. platform, connecting Altium 365 users and electronics design and manufacturing services needed for smart innovation with other ecosystem partners. As a hardware accelerator specializing in IoT, Seeed is proud to be part of the ecosystem offering our engineering and manufacturing expertise to all Altium 365 users. 📖More to read👉https://lnkd.in/gs7iPWd
Along with the release of Wio RP2040 series, we're also launching a 5 FREE Wio RP2040 module for commercial designs with Seeed Fusion PCB Assembly Service. Only 200 pieces available! The campaign is on a first come first serve basis, apply now! https://lnkd.in/g9XPaAE
Manufacturing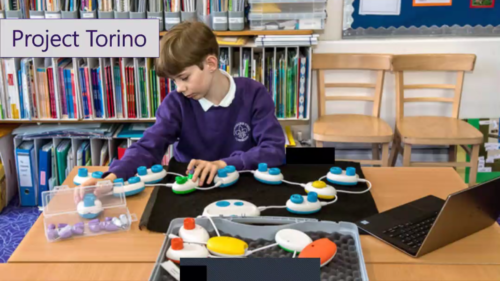 Case study with Seeed's manufacturing services: At one of the Raspberry Pi Computing Education Research Seminars, Dr. Cecily Morrison of Microsoft Research Cambridge recently shared a solution of a physical programming tool Code Jumper for kids who are blind or visually impaired. Code Jumper is a join-effort of Microsoft, American Printing House for the Blind, and Seeed. We're super proud to support getting this product fully developed, manufactured, and provided to the hands of those in need. 📖Learn more.