Wrap up: Edge AI Industry Solutions, Partners, and Seeed products at ISC West 2023
ISC West, the leading comprehensive & converged security trade event in the U.S., took place at the Venetian Expo in Las Vegas in March.29th-31th, 2023. Tens of thousands of security professionals gathered to learn about the latest security technology trends. Together with our Edge AI partners, we participated in ISC West and showcased how Seeed's NVIDIA Jetson product line series is transforming the security industry by leveraging Vision AI and Sound AI.
ISC West demonstrated the full range of physical and connected security solutions, It was a wonderful journey we participated in ISC West together with our Edge AI partners. All three ISV partners of Lumeo, CVEDIA, Cochl, and Seeed also work with NVIDIA Metropolis, an application framework, set of developer tools, and partner ecosystem that brings visual data and AI together to improve operational efficiency and safety across a broad range of industries.
We would like to express our sincere gratitude for our partners' support, it is our pleasure to work with you to accelerate AI application development across industries with enterprise-class performance. Thanks to every attendee step by our partner's booth, it was a great time to show you the quick demo and talk with you to learn how can we assist you with best-in-class products and services on this fantastic AI journey!
Spotlight#1 NVIDIA Metropolis: simplify vision AI development with enterprise-class solutions
Great events include exciting collaborations, let's start our tour at ISC West with the reComputer of Jetson exhibition and demo work with Lumeo, at the NVIDIA Metropolis booth.
At the NVIDIA booth, we collaborated with Lumeo to offer a no-code custom video analytics solution that runs on Seeed's latest reComputer J4012. The device is powered by NVIDIA Jetson Orin NX 16GB module, which provides up to 100 TOPS AI performance. With this solution, AI can be easily integrated into your current system to gain intelligent insights and build custom solutions quickly.
Lumeo's platform builds on NVIDIA pre-trained models, NVIDIA TAO Toolkit, and the NVIDIA DeepStream SDK, which pave the fastest path to market for vision AI solutions. You can quickly deploy and scale your custom AI solution on-premises, working with Seeed's reComputer, or in the cloud, and then manage it from the cloud. Using drag-and-drop tools, pre-built analytic building blocks, ready-to-use AI models, first-class APIs, and support for custom code, Lumeo lets providers instantly add AI-powered analytics to their own solution or extend existing VMS and camera installations to increase revenue and bottom-line.
"It's a great honor to join NVIDIA Metropolis," said Eric Pan, Founder, and CEO at Seeed. "We look forward very much to seeing more AIoT solutions scaling up to bring digital transformation to different business sectors."
NVIDIA Metropolis makes it easier and more cost-effective for enterprises, governments, and integration partners to use world-class AI-enabled solutions to improve critical operational efficiency and safety problems. The NVIDIA Metropolis ecosystem contains a large and growing breadth of members who are investing in the most advanced AI techniques and most efficient deployment platforms, and using an enterprise-class approach to their solutions. Members can gain early access to NVIDIA platform updates to further enhance and accelerate their AI application development efforts. Further, the program offers the opportunity for members to collaborate with industry-leading experts and other AI-driven organizations.
Spotlight#2 Lumeo: no-code custom video analytics in minutes
At Lumeo's booth, we showcased reComputer J4012 coupled with Lumeo's video analytics platform, the Universal AI Bridge enables any camera to run any AI model and basic to advanced analytics. The possibilities are endless, with use cases such as video verification for alarm reduction, license plate recognition, facial recognition, fall detection, and more, now enabled with any IP camera or NVR.
Take the example of retail solutions, using the Person Detection, Occupancy Monitor, and Line Crossing models and reComputer J4012, the mall's integrator can quickly create and deploy a solution that used existing camera and VMS infrastructure to make the retail experience smoother.
Lumeo's video analytics platform works for numerous applications, including enhanced security industry and improved efficiency in retail and hospitality settings, and more.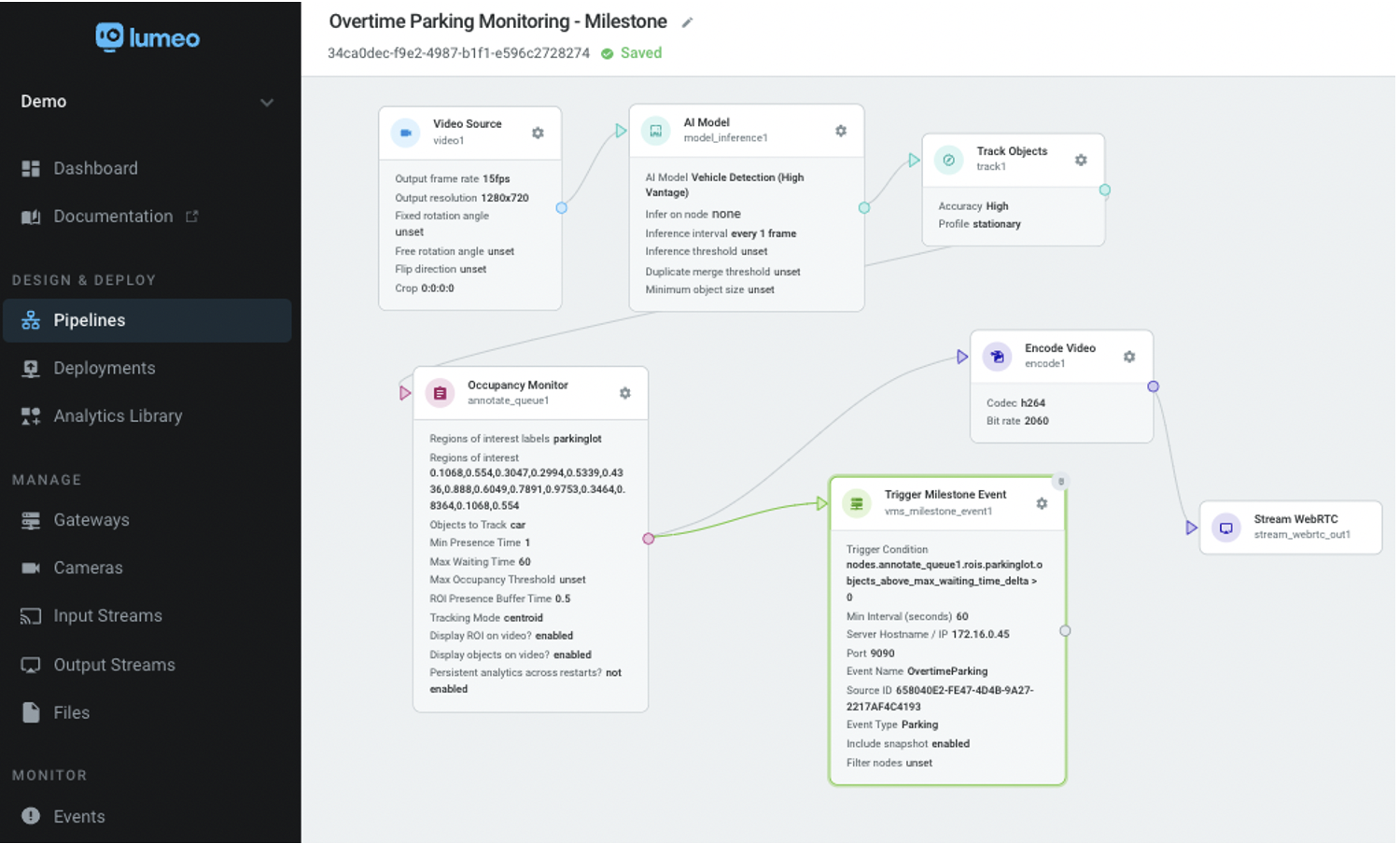 Free account
Lumeo's self-serve signups are now open, along with new freemium plans that let anyone build & deploy vision ai solutions for free and scale up as they go. For all the developers, tinkerers, R&D & technical physical security teams building solutions with video and vision AI. Integrators can easily integrate AI into their existing systems using Lumeo, consolidating analytics needs and integrating them into a VMS system. This allows for seamless integration of AI-driven analytics with existing systems, providing real-time insights.
Get started now
Spotlight#3: CVEDIA: out-of-box AI video analytics, powered by synthetic data.
At CVEDIA booth, Seeed collaborates with CVEDIA on intelligent security solutions running on reComputer J4012 – Orin NX to enable businesses to quickly generate insights from their video streams such as how long people loiter in an area, the estimated size of a crowd, and if the crowd size increases or decreases in real-time, monitoring the flow of people, detecting intruders, detecting and predicting the direction of vehicles, detecting if a package has been removed from a specific area, and many more.
What are the use cases of crowd size estimation?
Event Management: Monitor attendance, detect changes in crowd size and behavior, and improve safety and security measures.
Retail Analytics: Analyze foot traffic, measure customer engagement, and optimize store layout and marketing strategies.
Public Safety and Security: Monitor public spaces and gatherings, detect suspicious behavior, and respond to emergencies in a timely manner.
Traffic Monitoring: Count vehicles and pedestrians, track congestion, and optimize transportation planning and infrastructure.
Tourism and Hospitality: Monitor tourist attractions, manage crowds in high-traffic areas, and improve the visitor experience and satisfaction.
CVEDIA supports synthetic data generated from simulations and provides an inexpensive alternative to the real-world data used to train AI algorithms. Use SecuRT's Video Analytics with advanced deep learning algorithms to detect and classify objects in real-time video streams. CVEDIA provides many Video Analytics and Computer Vision off-the-shelf AI models that can be tailored to fit your specific use case. With this out-of-the-box solution, you will find different ready-to-use AI models for FREE. Create cutting-edge security products for your customers, deployed on-premise with real-time insights.
Get started now
Follow Seeed's wiki to easily install CVEDIA-RT on the NVIDIA Jetson platform and start building next applications.
Learn more at CVEDIA and book a demo, and access all of their AI models.
Spotlight#4: Cochl: audio & machine listening at the edge
Cochl showcased their sound event detection using our reComputer J2021, powered by Jetson Xavier NX and reSpeaker Mic Array. What sound can Cochl detect at the edge? There are 30+ target sounds available at Cochl.Sesne including Gunshot, Scream, Knock, Glass break, Baby cry, Fire/smoke alarm, Cough, Dog bark, and Doorbell. In public spaces, Sound AI can identify gunshots and call for help. Cochl's technology can also detect and categorize sounds from other emergencies, like screams or breaking glass, and provide quick solutions to prevent dangerous situations or crimes.
Cochl's sound AI technology is also integrated with the DUGU's patrol robot. The robot constantly patrols, monitoring for sounds such as screams, yelling, and breaking glass, and is prepared to respond to emergency situations 24/7. DOGU's security robots also leverage Seeed Jetson hardware and provide a stable operation of security services by deploying self-driving robots equipped with patrol-specific AI and synchronous monitoring solutions (1:N control). Read DOGU's security robots case study at NVIDIA.
Cochl.Sense Key features​
94% F-1 Score officially measured by IEEE
Pretrained model tested and verified in the real world
Multi-labeling (detecting multiple sounds simultaneously) supported
Free trial license​
Cochl.Sense SDK comes with full product features, access is granted after review. In order to access the SDK, and register your interest in this short Google Form, Cochl will send you a 2-week trial license to your email. If you want a quick start, you can also start free with the Cloud API that comes with the same functionalities but runs on the cloud. Click here to explore!
Edge AI Talk: Machine Listening on the Edge
New release of reComputer Industrial
For customer inquiries about reComputer Fanless version, please stay tuned to the reComputer Industrial release in Q2! Designed for robotizing the machines in harsh factory environments such as robot arm, PPE detection, or conveyor belt items detection in the field. reComputer Industrial is suitable for measuring, controlling, regulating, and automating process and machine data, powered by NVIDIA Embedded Jetson Xavier NX to Orin NX.
Industrial image processing and real-time decision-making help industries optimize with advanced automation for manufacturing, logistics, transportation, and smart cities. New reComputer has multiple standard interfaces to meet industrial application needs including Dual GbE, PoE, COM, and CAN.

Seeed NVIDIA Jetson Ecosystem
Seeed is an Elite Partner for edge AI in the NVIDIA Partner Network. Explore more carrier boards, full system devices, customization services, use cases, and developer tools on this Seeed NVIDIA Jetson ecosystem page.
Join the forefront of AI innovation as an Edge AI Partner with us! Harness the power of cutting-edge hardware and technology to revolutionize the deployment of machine learning in the real world across industries. Be a part of our mission to provide developers and enterprises with the best ML solutions available.
About Author