9 Ways to Use Industrial IoT for Industrial Safety
The Internet of Things, or IoT in short, is a very important trend of the fourth industrial revolution. Apart from improved convenience and productivity, there are many ways that the use of IoT in industries, or Industrial IoT, can benefit not only businesses, but individuals as well – like in achieving industrial safety! Join us in today's article as we discuss IoT and 10 ways to use IIoT for Industrial Safety!
---
What is Industrial IoT?
The Internet of Things describes a wireless network of physical devices that are equipped with sensors and computing capabilities that can communicate with one another. These devices are embedded in a great variety of edge applications – for example, modern smartphones, watches, fridges, or autonomous vehicles are all considered IoT devices.
Industrial IoT is, in turn, the application of IoT in the context of transforming industries such as manufacturing, agriculture, logistics, etc.
In a technical sense, Industrial IoT does not differ greatly from consumer IoT applications, working on similar principles of wireless interconnectivity. Hence, it is not uncommon to see an overlap of technologies. Nonetheless, Industrial IoT stands out as one of the largest growing markets, with the global IIoT market predicted to reach an astounding value of $123 billion in 2021.
---
IIoT for Safer Industries
The power of IoT lies in its vast network of interconnected sensors, instruments and computing devices, which now allows us to collect, monitor and analyse data like never before. This gives rise to a variety of improvements that can be made on surveillance systems, monitoring systems, control systems to make industrial processes more reliable and safer!
Without further ado, let's dive into the 9 ways to use IIoT for Industrial Safety!
1. Detect Environmental Hazards
Perhaps the most straightforward way to improve industrial safety with IoT devices is by using them to detect environmental hazards like toxic gases or substances. For example, by deploying gas sensors, operators can be easily and promptly alerted to the presence of harmful gases in the working environment. In doing so, actions can be taken to mitigate risks to worker health through an evacuation, or the source of the hazard can be quickly identified and eliminated.
Seeed offers a wide range of industrial-grade wireless environmental sensing solutions with the SenseCAP series. From smart agriculture, precision farming to smart cities, SenseCAP provides hardware (sensors, data-loggers, gateways), software (SenseCAP portal, mobile application, API) and versatile compatibility with different communication protocols, including LoRa, 4G, NB-IoT!
2. Maintain Operating Conditions
In industries, a deviation from the recommended operating conditions can represent a significant safety risk to workers. This is particularly important for industries which utilise high-performance equipment, such as in precision manufacturing or when working with dangerous substances and products. In a similar way to detecting environmental hazards, sensor-equipped IoT devices allow operating conditions of industrial processes to be monitored remotely in real time. In this manner, prompt action can be taken to mitigate safety hazards upon discovering anomalous operating conditions.
3. Preventative Maintenance
By extension, monitoring operating conditions can also play an important role in maintenance, specifically preventative maintenance. When data shows that operating conditions aren't being met, it may suggest that maintenance action for that piece of equipment is required. Close, remote monitoring with IoT solutions enables timely action to be taken, avoiding the unpredictable safety hazards as well as the costs that may come along with complete failure.
4. Employ Failsafes
In some cases, however, monitoring and alerts may not be sufficient. For example, there may not be sufficient time to take effective action against a detected risk. A momentary lapse in human response to a given situation may also result in system failure.
Fortunately, IoT enables large scale implementation of what is known as machine-to-machine (M2M) communication, where different devices can communicate with each other and work in a cooperative relationship without human intervention. M2M communication allows failsafes to be developed using IoT systems, where mitigating actions can be automatically triggered upon an alert in the network. In this manner, a piece of equipment that has been found to be operating anomalously can be shut down immediately by the system and have its workloads rerouted to other machines automatically.
Note: M2M traditionally referred to simple device-to-device communications like you see above, and is thus often contrasted with IoT networks. However, it is more accurate to say that IoT is a new paradigm that has evolved from M2M thanks to improvements in wireless transmission technology – enabling what was already possible before but on a far larger scale and with greater utility.
5. Enforce Operating Procedures
M2M with IoT can also improve industrial safety through enforcing operating procedures. Your industrial processes may come with standard operating procedures that must be followed – often for safety reasons. However, these procedures may not always be followed as a result of human error, which could arise from negligence or fatigue. Needless to say, eliminating human error entirely is not possible.
M2M communications with IoT allow independent systems to be integrated with one another to ensure that procedures are followed in industrial processes. For example, if Process B is meant to be performed only after Process A, we can design the system to only allow Process B to proceed once it has received the go-ahead from Machine A, where Process A should have been completed.
6. Remote Monitoring: Logistics & Transport
With 5G wireless transmission technologies like NB-IoT and LoRa / LoRaWAN, long-range, low-power transmission now lends numerous possibilities to new applications in many industries. Among them, however, the logistics and transport sectors may have the most to benefit from improvements in road safety.
Transport operators spend countless hours daily on the road, with constant exposure to risks of road traffic injury. With IoT, remote monitoring can now be achieved to keep track of vehicle movement and driver conditions at regular intervals. On the other hand, reckless driving can also be deterred by monitoring driving behaviours and patterns. Such monitoring can enable better and safer fleet management decisions by deploying only those who are both physically and mentally fit to drive.
7. Aggregate Monitoring: Efficient Management
From a managerial perspective, it is extremely challenging to maintain a holistic view of industrial processes and worker conditions. Fortunately, IoT can address some of these challenges through aggregate monitoring – with some help from a human machine interface.
Broadly speaking, HMIs are components of industrial systems that allow humans to conveniently interact with it, usually through a graphical user interface. A well-designed HMI in IoT presents operational data in a comprehensive dashboard, allowing a holistic view of ongoing processes. In addition, it provides alerts and guides plant managers to take corrective actions.
For example, Seeed's ReTerminal is designed to be the most comprehensive and user friendly HMI yet with its 5 inch LCD display, allowing a variety of natural interactions through computer vision, touch, gesture and voice. Powered by the powerful Raspberry Pi Compute Module 4, the ReTerminal is a versatile platform to build your HMI application to keep
To learn more about HMIs in IoT, I strongly encourage you to read my previous article!
8. Data Analytics & Machine Learning
If "data is the new gold", then IoT networks are pretty much goldmines. And with the number of IoT connected devices expected to double up to nearly 40 billion by 2025, the IoT sector is improving our access to massive amounts of data in nearly all industrial processes! With advanced data analytics and even machine learning on the edge, we can leverage data to make better business decisions, and even equip our IoT devices to make predictions, process complex data, and administer solutions!
But what does this have to do with industrial safety? Well, augmenting our devices with smart capabilities will allow safety systems to be taken to the next level. For example, we can use computer vision systems to visually inspect factories for safety hazards, or even detect anomalies from the vibrations of machinery!
To handle machine learning workloads, a GPU capable system is often required. Seeed is proud to share our complete edge GPU clustering solution with the Jetson Mate and NVIDIA's Jetson Nano / Xavier NX modules – the Jetson Mate Cluster! With a powerful NVIDIA GPU Cluster, you will be able to perform extensive
To learn more about machine learning on the edge, click here!
9. Monitor Worker Health
Finally, apart from monitoring industrial processes and machinery, it's also important to keep an eye on the most important resources in any business' arsenal – people! IoT enabled wearables like smartwatches are now commonly used to monitor workers' conditions as they work, including posture, noise, and physiological data.
Hence, the visibility of operational movement can be improved, whereas the same data can also be used to better understand safety behaviours and trends in an effort to identify and remove common hazards in the working environment.
---
Getting Started with Industrial IoT: Choosing Hardware
Getting started with designing your IoT solution can be daunting, but choosing hardware is probably a good place to start. In this section, I will cover several types of IoT devices and their corresponding product recommendations, which should give you a good starting point from which to begin designing your very own IIoT solution!
Microcontrollers
Microcontrollers are the backbone of IoT. Small, affordable, yet equipped with just enough computing power to collect, send data, and perform basic computational tasks, most IoT devices are in fact microcontrollers! Today, thanks to TinyML, which is a subset of machine learning that allows models to be run on low-power microcontrollers, the role of microcontrollers is only becoming increasingly important!
Seeeduino XIAO
The Seeeduino XIAO is the smallest Arduino compatible microcontroller in the Seeeduino Family. Despite its small size, the Seeeduino XIAO is equipped with the powerful SAMD21 microchip and a variety of interfaces, making it perfect for compact and wearable applications!
Product Features:
ARM Cortex-M0+ 32bit 48MHz microcontroller (SAMD21G18) with 256KB Flash, 32KB SRAM
Compatible with Arduino IDE & MicroPython
Easy Project Operation: Breadboard-friendly
Small Size: As small as a thumb(20×17.5mm) for wearable devices and small projects.
Multiple development interfaces: 11 digital/analog pins, 10 PWM Pins, 1 DAC output, 1 SWD Bonding pad interface, 1 I2C interface, 1 UART interface, 1 SPI interface.
Keen to learn more about the Seeeduino XIAO? Visit its product page on our Seeed Online Store now!
Wio Terminal
The Wio Terminal is a complete Arduino development platform based on the ATSAMD51, with wireless connectivity powered by Realtek RTL8720DN. As an all-in-one microcontroller, it has an onboard 2.4" LCD Display, IMU, microphone, buzzer, microSD card slot, light sensor & infrared emitter. The Wio Terminal is officially supported by Edge Impulse, which means that you can easily use it to collect data, train your machine learning model, and finally deploy an optimised ML application!
Product Features:
Powerful MCU: Microchip ATSAMD51P19 with ARM Cortex-M4F core running at 120MHz
Reliable Wireless Connectivity: Equipped with Realtek RTL8720DN, dual-band 2.4GHz / 5GHz Wi-Fi (supported only by Arduino)
2.4" LCD Screen, IMU and more practical add-ons housed in a n integrated and compact enclosure
Raspberry Pi 40-pin Compatible GPIO
Compatible with over 300 plug&play Grove modules to explore with IoT
USB OTG Support
Support Arduino, CircuitPython, Micropython, ArduPy, AT Firmware, Visual Studio Code
TELEC Certified
If you're interested to pick up a Wio Terminal, please visit its product page on the Seeed Online Store!
---
Single Board Computers (SBCs)
If you need more computing power for your IoT application, single board computers are where you will want to look. While most SBCs run on an operating system and thus won't be as suitable for timing-sensitive applications like microcontrollers are, they are very flexible for many applications and are not as tight on computing capacity!
When it comes to general purpose computing, you'll be hard pressed to find an SBC better than the ODYSSEY x86J4125800. Running on the powerful x86 CPU architecture, this SBC is capable enough to meet any edge computing requirement, or even serve as a mini PC to replace your desktop. More importantly, it has an ATSAMD21 Arduino coprocessor, which allows you to also use it for microcontroller applications!
Product Features:
Intel® Celeron® J4125, Quad-Core 2.0-2.7GHZ
Dual-Band Frequency 2.4GHz/5GHz WiFi
Intel® UHD Graphics 600
Dual Gigabit Ethernet
Integrated Arduino Coprocessor ATSAMD21 ARM® Cortex®-M0+
Raspberry Pi 40-Pin Compatible
2 x M.2 PCIe (B Key and M Key)
Support Windows 10 & Linux OS
Compatible with Grove Ecosystem
Interested to learn more? Learn more about the ODYSSEY x86J4105800 on the Seeed Online Store now!
NVIDIA is no stranger in the scene of AI computing. If you're looking for a powerful yet affordable option for Edge AI, their Jetson Nano 2GB Developer Kit is a great choice. You can even detach the Jetson Nano SoM from the Dev Board for use in clustering with the Jetson Mate!
Product Features:
Quad-core ARM® A57 CPU
128-core NVIDIA Maxwell™ GPU
2 GB 64-bit LPDDR4 RAM 25.6 GB/s
40-pin Header (GPIO, I2C, I²S, SPI, UART) / 12-pin Header (Power and related signals, UART) / 4-pin Fan Header
Video Encode [4K @ 30 | 4x 1080p @ 30 | 9x 720p @ 30 (H.264/H.265)]
Video Decode [4K @ 60 | 2x 4K @ 30 | 8x 1080p @ 30 | 18x 720p @ 30 (H.264/H.265)]
Interested to learn more? Learn more about the NVIDIA Jetson™ Nano 2GB Developer Kit on the Seeed Online Store now!
If you're just starting out, you most certainly won't go wrong with the Raspberry Pi 4B. Although the popular Raspberry Pi isn't as powerful as the other recommendations I've shared so far , it is still a very capable SBC for anyone who is trying to get into the SBC, IoT or Edge Computing space. You'll also benefit greatly from the extensive range of projects and support from the Raspberry Pi community!
Product Features:
Broadcom BCM2711, quad-core Cortex-A72 (ARM v8) 64-bit SoC @ 1.5GHz
1GB, 2GB or 4GB LPDDR4 RAM
2.4 GHz and 5.0 GHz IEEE 802.11b/g/n/ac wireless LAN, Bluetooth 5.0, BLE, Gigabit Ethernet
2 × USB 3.0 ports / 2 × USB 2.0 ports
Standard 40-pin GPIO Header
2 × micro HDMI ports (up to 4Kp60 supported)
2-lane MIPI DSI display port / 2-lane MIPI CSI camera port
Interested to learn more? Learn more about the Raspberry Pi 4 on the Seeed Online Store now!
---
More IoT Solutions from Seeed
Naturally, IoT ecosystems are not made from microcontrollers and single board computers alone. In this section, I will share three final recommendations that I highly encourage you to consider when designing your IIoT application to take it to the next level!
The SenseCAP Sensor Hub is your gateway into the SenseCAP ecosystem. It is compatible with standard MODBUS-RTU RS485 connections, which means it can be used with most industrial-grade sensors to send collected data to the cloud with ease! Combine this with our range of SenseCAP products to build your comprehensive industrial IoT application!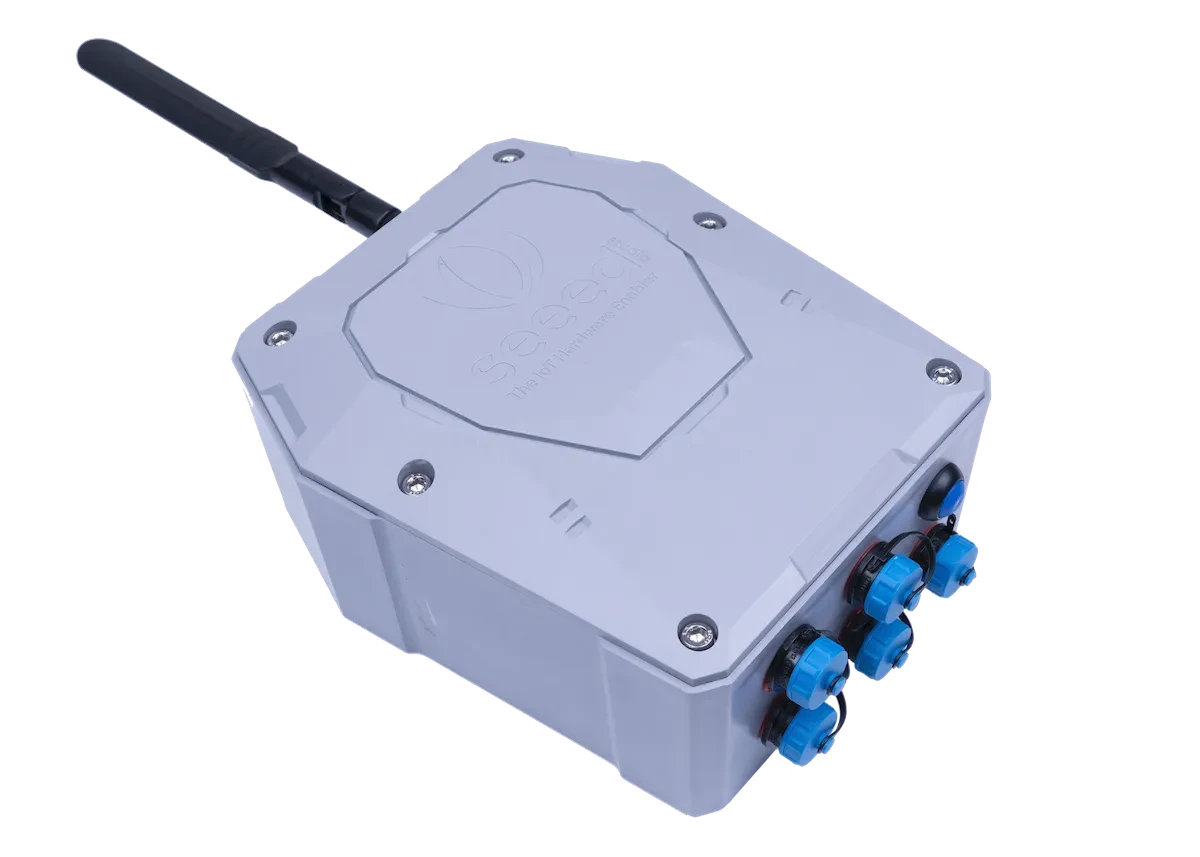 Product Features:
Simultaneously collect a variety of environmental data
Supports local storage of data
Compatible with standard MODBUS-RTU RS485 sensors
Supports uploading data to any server (SenseCAP Server / User's private server)
Support 4G/3G/2G communication, supporting global LTE frequency band
Built-in GPS positioning function
Remote upgrade and maintenance capable
Two power supply options available: DC only, Solar Power (to be purchased separately, coming soon)
Easy to install and deploy, without requirements of engineering background
Industry standards, suitable for harsh outdoor environments
Learn more about the SenseCAP Sensor Hub 4G Data Logger on the Seeed Online Store!
The ReTerminal is a HMI platform with a 5-inch LCD display, allowing a variety of natural interactions through computer vision, touch, gesture and voice. Powered by the powerful and latest Raspberry Pi Compute Module 4, the ReTerminal features an extensive range of I/O peripherals including Dual USB2.0 Type-A, Micro HDMI, MIPI Camera, GPIO, an expandable Industrial High-Speed Interface, and more!
In terms of networking, the ReTerminal allows you to use Gigabit Ethernet, 4G, 5G LoRa, Sub-1G, WiFi and BLE in your applications, while keeping your data secure with its onboard Microchip ATECC608A Crypto-Authentication module – making it perfect for IoT!
Product Features:
Integrated modular design with high stability and expandability
Powered by Raspberry Pi Computer Module 4 with 4GB RAM & 32GB eMMC
5-Inch IPS capacitive multi-touch screen at 1280 x 720 and 293 PPI
Wireless connectivity with dual-band 2.4GHz/5GHz Wi-Fi and Bluetooth 5.0 BLE
High-speed expansion interface and rich I/O for more expandability
Cryptographic co-processor with secure hardware-based key storage
Built-in modules such as accelerometer, light sensor, and RTC
Gigabit Ethernet Port and Dual USB 2.0 Type-A ports
40-Pin Raspberry Pi compatible header for IoT applications
Learn more about the reTerminal on the Seeed Online Store!
A computer cluster is defined as a group of computers (or nodes) that are working collectively as a single computing entity. Working in tandem, these computers achieve more computing power collectively and more reliably compared to a single unit! Get your hands on your very own edge GPU cluster with the Jetson Mate Cluster, which comes in three packages: Mini, Standard & Advanced.
At the core of the Jetson Mate Cluster is the Jetson Mate carrier board, which can house up to four NVIDIA Jetson Nano / Xavier NX SoMs of your choosing. These GPU capable modules deliver massive performance for computing at the edge, and are suitable even for higher performance workloads like computer vision, smart surveillance systems and autonomous robots!
Learn more about the reTerminal on the Seeed Online Store!
---
Summary & More Resources
IoT is a big trend of the recent decade – and for good reason too. In this article, I hope I've managed to shed some light on how IoT can improve industrial safety for both businesses and individuals – far beyond improving efficiency and productivity! While there are many ways to get into working with IoT, getting your feet wet by experimenting with various products is probably your best bet!
Keen to lean more? The following resources may interest you: