All about STEM Education for K12 to Educators: STEM Kits, Projects, Courses and Resources
At the speed of which 21st-century scientific technology is advancing, developing students' capabilities in STEM becomes increasingly crucial. STEM education is an abbreviation for " Science, Technology, Engineering, and Mathematics.", a program or curriculum that mainly focuses on exposing students to the knowledge of science and technology through activities at a young age. In today's article, we will be tackling the topic of STEM education for K12 kids, and some resources educators can utilize to better elevate and support their students' learning.
Before we get straight into our recommendations, courses and projects, let's first understand how STEM education is important to our technology and engineering industry.
How is STEM education relevant to Technology, Engineering and STEM-related industry?
According to a statistics conducted by Education Commission of the States, " the number of STEM jobs will grow 13 percent, compared to 9 percent for non-STEM jobs between 2017 and 2027—with positions in computing, engineering, and advanced manufacturing leading the way."
Thus, the primary reason why STEM education is so crucial to the engineering industry is due to the increase in demand for more students to be equipped with relevant computer science skills set that would better prepare them for future STEM jobs. In order to do so, educators and parents need to cultivate the students' passion and interest in Science, Technology, Engineering and Mathematics, best done at a very young age.

Apart from that, according to Emerson's 2019 STEM survey, " 2 of 3 women said they weren't encouraged to pursue a STEM career." Which indicates there's still work to be done about informing students (both male and female) about STEM-related opportunities and provide more resources that would inspire and intrigue them to find out more. Once STEM education is done well, where more initiatives are put in place to help students, particularly women, develop an interest in STEM, it'll bridge the gender gap where traditional STEM-related fields are often dominated by males.
Therefore, STEM Education is playing a significant role as the first step to help make the engineering or STEM-related fields much more inclusive and open to students and our communities.
With that said, here's what we will be covering today, feel free to skip ahead as you like:
STEM kit/ Product Recommendations
Getting Started with Graphical Programming software
STEM courses for students and educators
STEM community projects
Resources and Documentations
---
Best STEM Products and Kits to Get Started!
To help your students or children find the perfect product or kit to get started with STEM, we'll split this into 4 main categories: Grove zero, Micro: Bit, Arduino and Robotics. We recommend you introduce any of this product to k12 and above to ensure the kids' safety and a better learning experience!
Grove Zero (Ages 7 and above)
Thinking of exposing the children to electronics and programming without fussing about all the complicated wiring and soldering? Grove Zero is made to allow children to develop their creativity by combining easy magnetic connections with graphical programming software to create simple yet functional designs!
Why Grove Zero?
Grove Zero is a great tool for STEM education that provides a wide variety of modules for you to choose from, ranging from sensors and actuators to communication and display! Moreover, the modules are colour-coded to make it easier to identify for the children. Multi-directional magnetic "snap-together" connections are also implemented for their safety and easy usage!
Starting off with the Grove Zero Starter Kit which contains 9 Grove zero modules that are perfect for learning the basics of electronics, develop their creativity and hands-on skills. Making use of the guidebook in the kit, you can follow the tutorials and venture out to create DIY projects once you're ready to do so!
What's included in the kit:
This is another Grove Zero kit but with it comes with something extra, a Micro:bit car shield. What makes this Micro:bit car shield so special is because it has incorporated a buzzer, 4 addressable RGB LEDs and a rechargeable lithium battery (190 mAh)! No additional Grove Zero needed, all you need is to charge it with a 5V micro USB cable and a Micro:bit. Quick and easy if you want to build a robot car in seconds!
What's included in this kit:
If you don't own a Micro:bit, you can purchase it here! We'll show you more Micro:bit products in the next category so feel free to skip ahead!
If you're more interested in assembling an automated car instead of using a micro: bit, this car kit would allow you to do so by using only 4 modules! Furthermore, it also comes with interesting game maps to develop your skills and knowledge in maths, problem-solving and programming. We also recommend that you purchase our Grove Zero Starter Kit in addition to this kit for extra fun and possibilities!
What's included in this kit:
Apart from these 3 main Grove Zero kits we recommend you to purchase, they do sell Grove Zero modules that are meant for more than one person. If that's your preference, check out the other two kits:
---
Micro: bit (Ages 9 and above)
If you haven't already heard of Micro: bit, it is a popular programmable micro-computer that is tiny enough to fit in the palm of your hand! Specially designed to make programming much easier for beginners and children, it allows you to bring all your imaginations to reality.
You can purchase your Micro: bit here if you haven't already. Do be reminded that the kits and products below do not come with a Micro: bit!
BitMaker – Micro: bit Expansion board
BitMaker is a Grove One expansion board with 6 Grove One connection ports that is designed for the BBC micro: bit, users only have to slot their micro: bit into the expansion slot for it to work! It also comes with a lite version, BitMaker Lite that has 3 Grove One ports instead if you prefer a smaller extension board.
BitGadget Kit
If you're familiar with BitMaker already or prefer to purchase BitMaker in a kit instead, the BitGadget Kit is definitely more suitable for intermediate learners as it comes with 9 modules that is versatile and will allow you to experiment with other projects once you're experienced!
Check out BitStarter Kit as well if you're a fan of BitMaker Lite and would much prefer this in a kit instead!
BitWear – Wearable Micro: bit
BitWear is a wearable accessory that allows you to expand and transform the BBC micro: bit into a wearable, all you have to do is mount it behind your micro: bit with 5 small screws and you'll be good to go! It comes with a programmable RGB LED, buzzer, vibration motor, on/off switches and broken out Grove connection pin holes.
But of course, if you prefer to purchase BitWear in a kit, then you can always choose to do so! It comes with a handy strap band which you can use as a watch strap or arm band.
BitCar – Micro: bit based Robot Car
BitCar is an intelligent DIY robot car designed for the micro:bit, where users can easily assemble and write a program to control it. It comes with 2 Grove connection ports, 4 addressable LEDs, a built in buzzer and allows you to add on an Ultrasonic Sensor module for obstacle avoidance. Perfect for those who wants to enhance hands-on learning and programming skills!
BitPlayer – Micro: bit Joystick
Thinking of making a wireless remote controller or a game console? Simply plug your micro: bit into the slot and it'll work! Consisting of 6 programmable push button, a buzzer, vibration motor and a Grove I2C expansion port, the controller is compact and easy to hold for smaller hands too. You should consider getting the BitCar along with BitPlayer as well for easy controlling!
---
Arduino
Known for their easy-to-use microcontroller boards such as Arduino UNO and software, Arduino IDE, they allow you to control electronics by reading inputs and turning it into outputs. From there, you'll be able to experiment and build interesting electronics projects!
New to Arduino? The Grove Beginner Kit for Arduino got your back! This kit is perfect for STEM teaching and beginners who purely want to learn about Arduino and coding, it brings you the simplest way to get started with Arduino. After you're more familiar with Arduino, you can also take the modules out and use Grove cables to connect the modules.
Features:
Arduino UNO compatible board (ATmega320p based Seeeduino Lotus) + 10 most commonly used Arduino modules
Compatible with over 300 Grove modules
Beginner-friendly! Step by step project tutorials provided.
No breadboard and jumper cables required, all modules are pre-wired.
Looking for more use out of your Grove Beginner Kit for Arduino? Our Grove Beginner Kit for Arduino Education Add-on Pack comes with 8 more Grove modules and even 8 Grove Wrapper that allows you to use in conjunction with your Arduino Grove Beginner Kit (10 Grove modules)! Making it even better for STEM education and beginners who're learning electronics.
Features:
Align all the Grove modules to give better protection and display
Excellent wiki + 5 classic step by step project tutorials
Super friendly to beginner and STEAM education
Perfect accessories
Based on the Grove Beginner Kit, Arduino Sensor kit is a collaboration between Seeed and Arduino. The kit also contains 10 pre-wired modules as with the Grove beginner kit, but the Arduino Sensor Kit has 16 Grove connectors on the base shield instead of 12 Grove connectors on the Lotus board on Grove Beginner kit!
Features:
Co-produced by Arduino and Seeed
Plug & play addition to the Arduino Uno
10 most commonly used electronics modules
All modules are pre-wired on the PCB, no wiring required
High-quality online lessons provided by Arduino
Perfect for Steam Education and Online Education
---
Robotics (Ages 12 and above)
M.A.R.K , or Make A Robot Kit, is an intelligent robotic platform designed for learning about Artificial Intelligence. Not only can children learn about Artificial Intelligence (A.I.) technologies, they can have the hands-on experience of assembling the robot. This is the perfect robot to learn about programming & Artificial Intelligence
Features:
Learn coding & robotics through fun projects
Get Started with AI recognition & On-device model training with Ease
Learn basic self-driving car functionality like lane following, traffic sign identification
Durable Aluminum Body with Built-in 2.4″ color Screen & Pan-tilt camera
Rich Free Course Materials for Machine Learning and Autonomous Driving
Accessible Yet Intelligent: Support Scratch 3.0 Based Graphical Coding Software & Micropython
Easy Assembly, Hands-on construction
Customizable, extendable & open-source
Petoi Bittle is an open-source robot dog that is tiny yet powerful and agile, ideal for learning, teaching and researching quadruped robots. You're free to program it and mount Raspberry pi chips with extensions as well! A truly versatile tool that comes with 16 programming courses that will make it easy and accessible to everyone.
Features:
Unique bionic system
Compatible with multiple programming methods
Customized Arduino board
Rich extensions
Easy to operate
Rich curriculum resources
Strong protection
Other STEM Robotics Recommendations:
And here marks the end of our recommendations section, if you'd like more STEM education recommendations, do click here to view!
---
Graphical Programming Software for Beginners
Codecraft (Ages 6 and above)
Interested to learn to program? Codecraft shows you how programming can be fun and engaging! It is based on the Scratch 3.0 language and enables programming by simply "dragging and dropping" blocks. The perfect programming software for children and anyone who is trying to learn how to program!
Features:
Supports multiple hardware devices: Arduino, Grove Zero, micro: bit, etc.
Switch between multiple programming languages: Python/C/Javascript languages
Provides demos and sample program to help children learn effectively
Able to program online and offline
You can use this software in conjunction with any one of the products and kits we have suggested earlier, so try it out for yourself now!
---
All of the courses stated here are from TinkerGen! They provide a huge variety of free courses and lessons on most of the kits and products we have listed earlier. Thus, do check this website out if you purchased anything from us!
We will list an example from Grove Beginner Kit For Arduino Codecraft Graphical Programming Course and show you how exactly it'll look like when you click open the individual course:
And here's how the lesson slides would look like when you open it:
Do note that you can only get the full lessons and resources after you created an account and logged in!
---
STEM Projects
We'll be using the products we have mentioned earlier and showcase it in a few projects here! Similarly, the projects are from TinkerGen's Make2Learn section.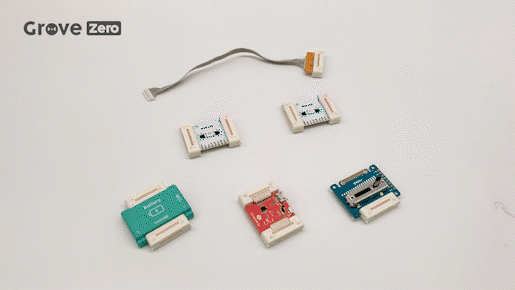 Want to build a cute alligator lamp by using Grove Zero modules? Be sure to get the All-in-one kit / Explorer kit if you don't want to buy them separately! This tutorial comes with full instructions and assembly video for you to follow along!
What you'll need:
Grove Zero Slider
Grove Zero RGB LED
Grove Zero Main Board BLE
Grove Zero Battery
Wire
LEGO base
Check out the full instructions and material list at Make2Learn if this project interest you!
According to statistics, humans touch their face 16 times an hour on average! Not anymore with this project, as you will be able to make a wearable that reminds you to wash your hands and keep you safe from the virus! It's a simple micro: bit project that doesn't require too many components, perfect for beginners!
What you'll need:
Do you have a bad habit of touching your face too often? Try out this project and change your bad habits now!
Build your very own robot turtle, Donut! This project drew inspiration from a a Robot Rat made by David, a 14-year-old boy living in Spain. Thus, this project is tweaked to make it micro: bit friendly. Do note that you'll need an FDM printer to print out the parts.
What you'll need:
Grove Servo x2
M3 self locking screws x6
Li-Ion battery x1
Grove cable x1
Interested in this cute little robot turtle? Do try this project out for yourself!
The projects above are just a few simple ones that we figured may interest the kids, click here to visit TinkerGen's Project for more cool projects!
---
Summary
And that's it on our STEM education for K12 kids, and resources educators can utilize to better elevate and support their students' learning! We hope that the recommendations, courses and projects would motivate and help you learn electronics and programming. Do check out the resources below!
Resources
Documentation
Suggested Readings