New Product Post: Industrial Compact Weather Sensor, Sensor Hub 4G Data Logger, and More!
This month we also have a rich collection of IIoT products: 7-in-1 compact weather sensors, MODBUS-RTU RS485 sensors, and 4G data loggers. These products are all meeting industry standards, featuring accuracy, stability, and durability, highly suitable for long-term outdoor application scenarios, such as smart agriculture, smart pole in smart cities etc.
As you might have noticed we are releasing new industrial-grade IoT devices constantly. Previously, we've introduced SenseCAP LoRaWAN sensors and gateways, and different industrial sensor probes. In our last post, we introduced an EC & TDS Sensor, PAR Sensor, and 4-in-1 weather sensor.
With the constant feedback from our customers, we are designing and adding new devices into the IIoT product category, hoping it'd come in handy whenever you need to build your own industrial environmental monitoring projects, no matter for agriculture, smart city, or scientific researches.
And this month we also have a rich collection of MODBUS-RTU RS485 sensors, 7-in-1 compact weather sensors, and 4G data loggers, which are all meeting industry standards, featuring accuracy, stability, and durability, highly suitable for long-term outdoor application scenarios.
Without further ado, let's see the new devices that we are preparing for you!
Weather sensors are used for obtaining localized weather data. The so-called microclimates can help deliver ever more precise and accurate weather information, which is highly important for decision-making in many industries.
SenseCAP ONE is a series of compact weather sensors, which are new additions to the SenseCAP IIoT product family. SenseCAP ONE series features high integration and compact in size. Without moving parts, it is easy to install, has a longer lifetime, and maintenance-free.
SenseCAP ONE series also integrates a heater inside, making it possible to work soundly in an extremely cold environment, with a working temperature range of -40 °C ~ + 85 °C.
The SenseCAP ONE S700 is the first product that we release in the new SenseCAP ONE series. It measures 7 different weather parameters:
air temperature,
relative humidity,
barometric pressure,
light intensity,
precipitation intensity,
wind speed,
wind direction,
SenseCAP ONE S700 integrates an ultrasonic wind speed and direction sensor, as well as an optical rain gauge, which makes the device compact in size, without moving parts. This makes the whole sensor less likely to break and reduces the necessary maintenance. SenseCAP ONE can be mounted on a flange plate or a pole. An electronic compass helps to orient it and to make the deployment quick and easy.
The SenseCAP ONE S700 supports MODBUS-RTU RS485/232/422 (Modbus) and SDI-12 protocol. You can use it with a data logger that supports the above-mentioned protocols to build a compact weather station!
Currently, we offer global FREE-SHIPPING for SenseCAP ONE S700. Get one now when this special offer is available!
Meanwhile, we've also developed a powerful data logger, which can be used with SenseCAP ONE with a MODBUS-RTU RS485 cable, just plug and play. And this data logger also made its debut this month!
SenseCAP Sensor Hub 4G Data Logger is a compact solution for integrating multiple environmental monitoring devices and send the data to the cloud. With extension hubs/ RS485 splitters, Sensor Hub can connect a maximum of 32 sensors at the same time.
The collected data can be uploaded via 4G to either a private MQTT Server or the SenseCAP Portal. To guarantee that none of the collected information gets lost SensorHub is equipped with 10MB onboard memory. In case the connection gets interrupted the device continues to collect data and caches it locally. When the connection is restored all the locally cached data gets uploaded to the server.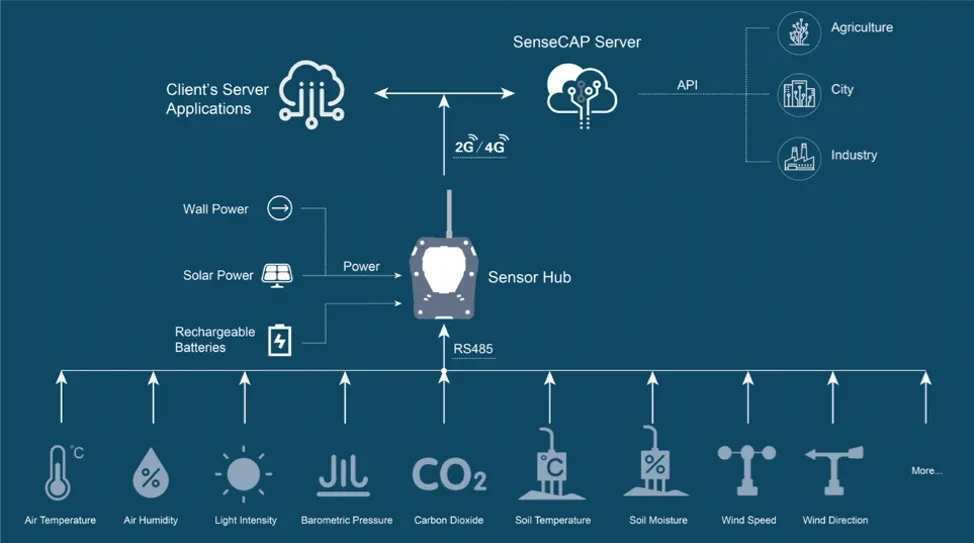 MODBUS-RTU RS485 Sensors, with Waterproof Aviation Connectors
Sensor Hub can be used with any sensor that supports MODBUS-RTU RS485 protocol and a 5V/12V power supply. To make it even more convenient for you to build your IIoT applications, we also have a collection of MODBUS-RTU 485 sensors with a waterproof aviation connector. Hence, you can plug these sensors into Sensor Hub and see the data immediately, without any troubles with wiring, soldering, or provisioning.Industrial PAR Sensor
The industrial-grade PAR (photosynthetically active radiation) sensor featuring high performance, accuracy, and easy-installment, is designed to measure real-time photosynthetic light levels, which is the primary driver of plant photosynthesis. This instrument is able to monitor the PAR in environments with natural light sources across a radiation range from 400 to 700 nm and provides important parameters for researchers and farmers.
Light Intensity Sensor measures the ambient illuminance in a given environment. Illuminance is used to measure the luminous flux incident on a given surface, wavelength-weighted by the luminosity function to correlate with human perception of brightness. Or simply how much incident light illuminates a surface.

The light in this spectrum is what plants require to grow so one of the main applications of LIS is smart agriculture. Having real-time data for ambient illuminance in a growth house or another grow environment will help growers optimize their operation and increase their yields.
Another application scenario is monitoring solar farms and predicting produced power from solar panels for smart grid applications. Modern smart grids depend on precise data about local conditions to balance the electricity of the grid.
The Sensor is IP66 rated (water- & dustproof) and can function under harsh outdoor conditions like farms or industrial areas. Light intensity depends on the orientation and the amount of light that can reach the sensor so it is equipped with a level indicator and spring-loaded to make sure you can install it leveled.
New Smart Agriculture applications require a constant overview of a wide range of environmental parameters. The wetness of plants surrounding is important for fungus and disease control, predict frost and optimize irrigation systems.
The Leaf Wetness Sensor is used to remotely monitor dew and precipitation left on surfaces. The sensor can be attached to branches where it acts as an artificial leave. By measuring the changes in relative permittivity on its surface, the sensor measures the wetness and temperature to indicate the wetness of leaves in proximity to the sensor. To best emulate real leaves the sensor has the same thermal resistance so that water condenses and evaporates at the same speed as on normal leaves . The output value is proportional to the percentage of the sensing area covered with water. It has an oval shape, and it is sealed with resin packaged plastic body to make it waterproof and give it a long lifespan.
For the previously-released sensors, we also made new versions with aviation connectors, so that you can use them with Sensor Hub with ease.
This Industrial EC & TDS Sensor measures the conductivity, salinity, and total dissolved solids (TDS) in a liquid. It is designed with ATC (automatic temperature compensation), making sure the data is accurate regardless of the temperature changes. Its electrode is IP68 rated, while the transmitter is IP65 rated, suitable to be immersed in water for a long time.
This industrial Soil Moisture & Temperature & EC Sensor mesures soil moisture, temperature, and salinity, featuring high accuracy, reliability, stability, and durability. It can be widely used in monitoring soil moisture, soil temperature, and soil EC in professional application scenarios.
This industrial Soil Moisture and Temperature Sensor can be widely used in monitoring soil moisture and soil temperature in professional application scenarios such as water-saving irrigation, greenhouses management, and golf turf management, etc.
This pH sensor is designed with industry standards and equipped with a waterproof aviation connector. It adopts international advanced solid dielectric and large-area polytetrafluoroethylene liquid junction, which is not easy to block and convenient for maintenance. It's designed with ATC (automatic temperature compensation), making sure the data is accurate regardless of the temperature changes. This pH Sensor is IP65 rated, waterproof in a tight seal, capable of withstanding long-term constant use in professional application scenarios.
This industrial-grade digital NDIR CO2 concentration sensor supports has built-in calibration functionality, and is compact in size, making it widely applicable in greenhouses, cities, poultry farms, transportation stations, and other application scenarios where CO2 level is needed.
SenseCAP ORCH S4 is a four-in-one weather sensor monitoring parameters of air temperature, humidity, barometric pressure, and light intensity. It supports both MODBUS (MODBUS-RTU/MODBUS-ASCII) and SDI-12 and a wide range of power voltage from 3.6V to 16V. With strong robustness, it can operate in extremely complicated environments and is particularly suitable for IoT scenarios such as greenhouse and outdoor farming.
That's the current collection of MODBUS-RTU RS485 sensors with waterproof aviation connectors. You might already have an existing data logger and need to add extra sensors to the project. If you want to use the sensors with hook-up wires instead of with aviation connectors, check out the collection of our IIoT products here.
These are our newest IIoT devices, and there will be more coming out soon. So stay tuned for our next NPP! Of course, please feelf ree to leave comments and let us know what other IIoT devices you'd like to see available at Seeed!
About Author