Take A Close Look at Onboard Interfaces of Odyssey X86J4105 – How Powerful Is It and How Many Possibilities Can It Extend?
We received a lot of good feedback so far for Odyssey X86J4105, especially for its amazing rich interfaces. Thank you all for interest in this powerful mini PC. We added a lot of on-board interfaces for Odyssey X86J4105 to help you extend functionalities, including Dual Gigabyte Ethernet Ports, Audio Input and Output, USB Ports, HDMI, SATA III, SATA power supply and M.2 PCIe.
In today's blog, let 's take a close look at featured interfaces and see what they can do!
Dual Gigabit Ethernet – perfect for pfSense firewall solution and OpenWrt router, etc.
Bonding two network interfaces at the same time!
When we were designing this product, we were not aiming at providing another X86 SBCs with super powerful CPUs to replace your desktop computer. We are trying to make the ODYSSEY to be your second computer while it can be normal PC, but most of the time you can play and hack with it, that's why it comes with Dual Gigabit Ethernet ports.
When you "bond" two network interfaces, this enables your PC to use one gigabit ethernet to send and the other to receive, which makes the ODYSSEY – X86J4105 perfect for applications like pfSensor or OpenWrt.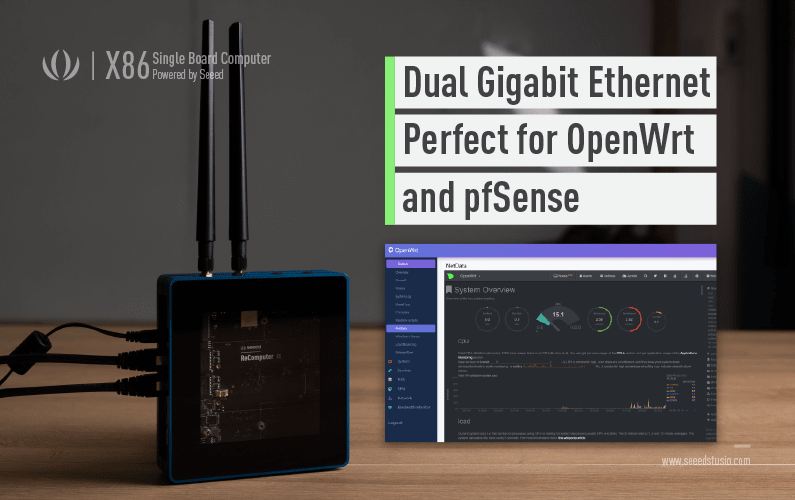 OpenWrt is a custom framework without a required complete firmware Developers can customize the firmware, which can be installed on your router. Check out our tutorial on how to build your own OpenWRT router with the Odyssey!
Loaded with connectivity options like this dual-Gigabit Ethernet via Intel I211AT PCIe Gigabit controller (with Wake-on-LAN and PXE support), you can build server and control it remotely with ease.
And another application idea is that with dual gigabit connections can also be used to connect to different networks. For example, imagine that your computer can be connected to both a public network accessible to customers and your own independent internal network, which not only improves security but also frees up the bandwidth of the internal network to process data.
40-Pin Raspberry Pi Compatible Header and 28-Pin Arduino Pinout – friendly to makers for adding Pi HATs or programming with Arduino IDE.
As this is an Arduino-based coprocessor, this board features 28-Pin Arduino Pinout for you to connect electric components such as sensors and actuators to your Odyssey!
With onboard Raspberry Pi compatible 40-pin, you can extend possibilities with numerous Raspberry Pi HATs.
SATA III and 3 x SATA Power (5V&12V) – setting up your NAS home server
Equipped with a standard SATA connectivity at SATA III and extra three of SATA power ports, this board allows you to connect and power storage devices such as a SATA hard drive or a SATA SSD.
With these connectors, you can do quite a few things with it such as setting up a NAS server with the Odyssey! Check out our tutorial on how we used the Odyssey x86J4105800 to set up a FreeNAS Storage Operating System.
Two M.2 PCIe (B Key and M Key)
The Odyssey also comes with two M.2 PCIe (B Key and M Key) which enables various expandable capabilities including Hard Drives, SSD, GPU, 10GB ethernet network, 4G, even 5G cellular network connectivity.
M.2 interface will help to speed up your solid-state drives (SSD)
SATA SSDs and SSDs that use two PCIe lanes tend to use keys B and M to maximize compatibility because both connectors can provide both SATA III and two PCIe lanes. The fastest SSD is usually key M because it is the only SSD that provides four PCIe lanes.
The below picture shows two M.2 PCIe slots. The first picture shows the slot uses module key B, and the second picture shows the slot (near the Arduino header) uses module key M. 
SIM Card Slot and Micro-SD Card Slot
Even these are just normal Micro SD Card and SIM Card slots, we find it pretty cool as they are together!
On top, it will be your Micro SD card slot and below, it will be your SIM Card slot. The onboard SIM card slot makes it possible to build the 5G soft router with the extraordinary fast connection.
Do note that for this to work, only if you have an M.2 4G Cellular module fitted in the B key M.2 slot.
DP ports via USB Type-C, just like a Macbook Pro
The USB Type-C ports also comes with integrated DP connectivity, which allows you  both power and connect with 4K display via the Typc-C port at one time. Just like what the latest Macbook pro's features. Isn't it cool~
Other Ports
As you can tell, the Odyssey comes along with many other various ports as well like two USB 2.0 Type-A ports, a USB 3.1 Type-A port. Of course, it comes along with an audio jack and HDMI for you to plug in your keyboards and mouse.
What can you do with the Odyssey – X86J4105?
With ODYSSEY – X86J4105, you can build your own NAS
(Network-Attached Storage), your high-performance Virtual Router, or a 4G LTE Gateway in your IoT applications. There is an onboard ATSAMD21 Core, an ARM Cortex-M0+ MCU allows you to program Arduino on the x86 platform. The Raspberry Pi compatible 40-Pin allows you to use hundreds of Pi HATs in the market. All of these features providing endless possibilities of using the ODYSSEY – X86J4105.
The ODYSSEY – X86J4105 is more than just a computer, with the Arduino Co-processor onboard, it can be used to connect with sensors, gyroscope, and much more. You can also use the ODYSSEY for your robotics projects, media center, server cluster, IoT Gateway, router, etc. Why don't you start exploring your IoT journey with the ODYSSEY today!
Want a case to protect your Odyssey? We have that too! For only $14.95, you get a re_computer case to protect your board. This case is not only compatible with the Odyssey, it is compatible with ALL POPULAR SBCs. Yes all of them like the Raspberry Pi, BeagleBone and Jetson Nano.
Introducing the Odyssey X86J4105
Edge Computing devices are playing an increasingly important role in the field of IoT. Nowadays, a computer is not just a big rectangular black box under the desk, or a small portable device working on your knees. Computers are ubiquitous devices that span calculating, communicating, and data storage. Based on this definition, here we would like to introduce our new product – the ODYSSEY – X86J4105.
ODYSSEY is a series of SBC (Single Board Computer), allowing you to build Edge Computing applications with ease. Just simply connect to a mouse, keyboard and a monitor with the Odyssey -X86J4105, you will get a powerful Mini PC that can run Windows and Linux OS onboard.
Feel free to let us know what tests, tutorials, and resources you want to know more about Odyssey X86J4105. We will keep updating more content around this amazing board. Stay tuned and look forward to all of your suggestions!
About Author