Customized Seeed Studio Beaglebone boards in Industrial Applications and Projects!
With BeagleBoard.org dedicated to bringing us advanced embedded development and open-source single bard computers, they have without a doubt become one of engineers' and tinkers' favourite development boards for industrial use! With Seeed Studio's partnership with BeagleBoard.org to develop the Beaglebone® Green series, provided industries with even more flexibility and choices!
Thus, we will give you a rundown on our Beaglbone® Green (BBG) series, compare our Beaglebone® Green series to Beaglebone® Black, and show you some of our success stories with BBG in industrial applications!
---
Customised Beaglebone® Green Industrial Applications
Speaking of Beaglebone® Green, how well does it actually perform in an industrial setting? Well, we will be showing you 4 different settings where our Beaglebone® Green is applied as part of the industrial solution!
An Electronic Controller for Poultry Industry & Farm
In order to allow farmers and people of the poultry industry to view and monitor the data in farms, our original Beaglebone® Green is used as an electronic controller in this case.
This controller is capable of controlling and displaying all data such as humidity, temperature and light levels, which would in turn optimize poultry production with real-time data management.
Smart Gateway for Building Metering
As for tracking factory and residential needs such as water, electricity and gas, our customised Beaglebone® Green is used as smart gateway to collect real-time data and transmits data to the cloud for real-time and remote monitoring.
The following customisation is made to our Beaglebone® Green to better cater to their solution: Increased in DC input to 9V – 24V, added the real-time clock and added RS485 interface.
Smart Gateway for Collecting Food Delivery Status
For the case of transporting fresh produce and goods, our customised Beaglebone® Green is used as the smart gateway to track the quality of the good.
By collecting and uploading data such as temperature and humidity of the goods during transport, this would prevent unnecessary cost and increase the overall efficiency in product distribution.
The following customisation is made to our Beaglebone® Green to better cater to their solution: Rearrangement of header pins, added PoE(Power over Ethernet), added RGB LED for system status, added 2 USB host connectors.
New Energy System Monitor
In order to upgrade solar system controllers, our customised Beaglebone® Green is used to enable users and maintenances to update and monitor the devices for solar systems. Also, this controller also works as a smart switch for home solar system and grid!
The following customisation is made to our Beaglebone® Green to better cater to their solution: Added RS485, CAN (Dual pack RJ45), encryption chip, LED and buzzer and RTC
---
Comparison between Beaglebone® Green Series and Beaglebone® Black
Main differences between Beaglebone® Green Series and Beaglebone® Black
Since Beaglebone® Green Series basically use the same board as Beaglebone® Black, you can find many similarities between them. But there are a few differences that make Beaglebone® Green Series a better option instead.
Pricing
If we were to look at their specs and compare them side by side, you'll realise that BBB ($60) is a lot pricier than BBG ($44). Not to mention BBG series have 4GB on-board storage as well. For about the same features, BBG is definitely more pocket-friendly for your needs.
Connectivity
In term of overall connectivity, the most comparable one to BBB is BBG, but what makes BBG series stand out is its 2x Grove connectors. Where BBGG and BBGW have Bluetooth and Ethernet as well! Though for the most parts, BBG and BBB are pretty similar.
---
Background of Beaglebone® Green Series
Seeed Studio BeagleBone® Green is a joint effort between BeagleBone.org® and Seeed Studio, and it is based on the open-source hardware design of BeagleBone® Black.
It is a low-cost option that provides the compact footprint, numerous interfaces, and expandability of BeagleBone® Black while extending the development environment with on-board Grove connectors which work with the Seeed Grove ecosystem. Furthermore, Seeed Studio BeagleBone® Green is fully compatible with BeagleBone® Black capes.
Moreover, it comes with a Debian image installed on the on-board 4GB 8-bit eMMC flash storage, where you can connect the board to a 5V power supply or the USB port of your PC to easily power it up.
Seeed Studio BeagleBone® Green Wireless Development Board is based on TI AM335x, is the first Wi-Fi + Bluetooth Low Energy (BLE) board from the Beagle community. It offers a Wi-Fi and BLE solution with a built-in 2.4 GHz TI WLinkTM8 module with two antennas.
It also supports AP+STA mode of communication, comes with an MRAA library, and complies with Bluetooth Advanced Audio Distribution Profile (A2DP). The board also comes with two Grove connectors, making it easier to connect to the large family of Grove sensors.
Seeed Studio BeagleBone® Green Gateway Development Board is a commercial-grade single-board computer (SBC). It is based on the open-source hardware design of Seeed Studio BeagleBone® Green and Seeed Studio BeagleBone® Green Wireless and combined with the onboard Wi-Fi + Bluetooth Low Energy (BLE) + Ethernet features. Which also supports various BeagleBone® Cape that can perform different functions.
Though Beaglebone® Black is not the star in this article, but to help out those who are not familiar with it, here's a brief intro about it:
Beaglebone® Black
Beaglebone® Black is a low-cost development board, built with AM335x 1GHz ARM® Cortex-A8. BeagleBone Black comes with the 512MB DDR3 RAM and 4GB 8-bit eMMC on-board flash storage. You can boot Linux into the board within 10 seconds and get started on development in less than 5 minutes with just a USB cable.
---
Beaglebone® Green Projects
We figured you might be curious how our Beaglebone® Green would function outside of industrial applications as well, so here are some examples of our Beaglebone® Green projects!
Ever thought of building a drone with as little components as possible? By using our Beaglebone® Green alongside BBBmini, you won't have to deal with soldering which makes it easy to build and perfect for beginners who are interested to build their very own drone!
What you'll need:
BBBmini PCB
GY-9250
GY-63
Microchip Technology MCP2562 E/P CAN TRX
Grove – OLED Display 1.12" or any OLED display
Grove – Ultrasonic Distance Sensor or any HC-SR04
GPS ublox NEO-M8N
Telemetry radio
Capacitors
Resistors
Female and Male headers
Polyamid screws
Hexa Polyamid spacers
Quadcopter frame
ESC and motor set
Lipo pack and charger
6 Channel RC Transmitter and receiver
Gemfan 5030 Multirotor ABS Propellers Bulk Pack (10 Pairs)
HK Pilot Power VI Module, Distribution Board And Dual UBEC ALL-In-One (120A and 10s)
Soldering iron // Consider our Mini Soldering Iron Deluxe Kit: US Standard and Europe Standard
Sounds like a project you're interested in? Check out this project for more information!
If you're interested delving into the study and application of haptics (or rather kinesthetic communication), this project basically allows you to experiment with the burgeoning field of sensory prosthetic research that would aid people.
What you'll need:
[Haptic Cape] Components BOM
[Haptic Belt] Multi-Strand Wire, 26 gauge 10ft+
[Haptic Belt] Connector Socket 24-30 AWG Crimp Pins
[Haptic Belt] Connector Housing, 2 Position, .1″ single row
[Haptic Belt] Vibrating Motor w/ Encapsulated Shaft
[Haptic Belt] VELCRO Sticky Back Tape – 3/4″
[Haptic Belt] Athletic "Waist Trimming" Belt
[Haptic Belt] Small Cable Ties
[Haptic Belt] Mini Portable Smartphone Charger
[Haptic Belt] 2 AA Battery Holder W/ Switch
[Haptic Belt] Small Electronics Carry-all
Interested in developing a haptic development platform? Try it out for yourself by checking out this project!
Are you guilty of abusing the snooze function of your alarm time and time again because you refuse to get out of your bed? You will never have another excuse again with this project since you'll be forced to get out of your bed to do so!
What you'll need:
Pushbutton switch 12mm
Red and Green LEDs
Bluetooth Speaker
4-Digit 7-Segment Display w/I2C Backpack
A fan of snoozing? Quit your bad habits now with this project!
If you're new to using BBGW and would like to learn how to set up for Bluetooth use, this project would be the perfect one for you! You will also learn to create a simple Python script that will trigger an LED to light up when a known Bluetooth-capable device like your phone comes within sensing range.
What you'll need:
LED
A discoverable Bluetooth device (headset, fitness band etc.)
Interested in learning the basics of BBGW? Check out this project and learn today!
With a few simple components, you'll be able to find out the interior and exterior humidity and temperature of your house with this mini weather station! Perfect for those who are just simply curious or interested in gardening.
What you'll need:
Sounds like a fun mini project? Check out this project for more details!
---
Seeed Studio Customisation Services
As you have seen from our industrial application of Beaglebone® Green, Seeed provides a one-stop service for IoT device development, from product design, customization, certification, mass production to final global distribution!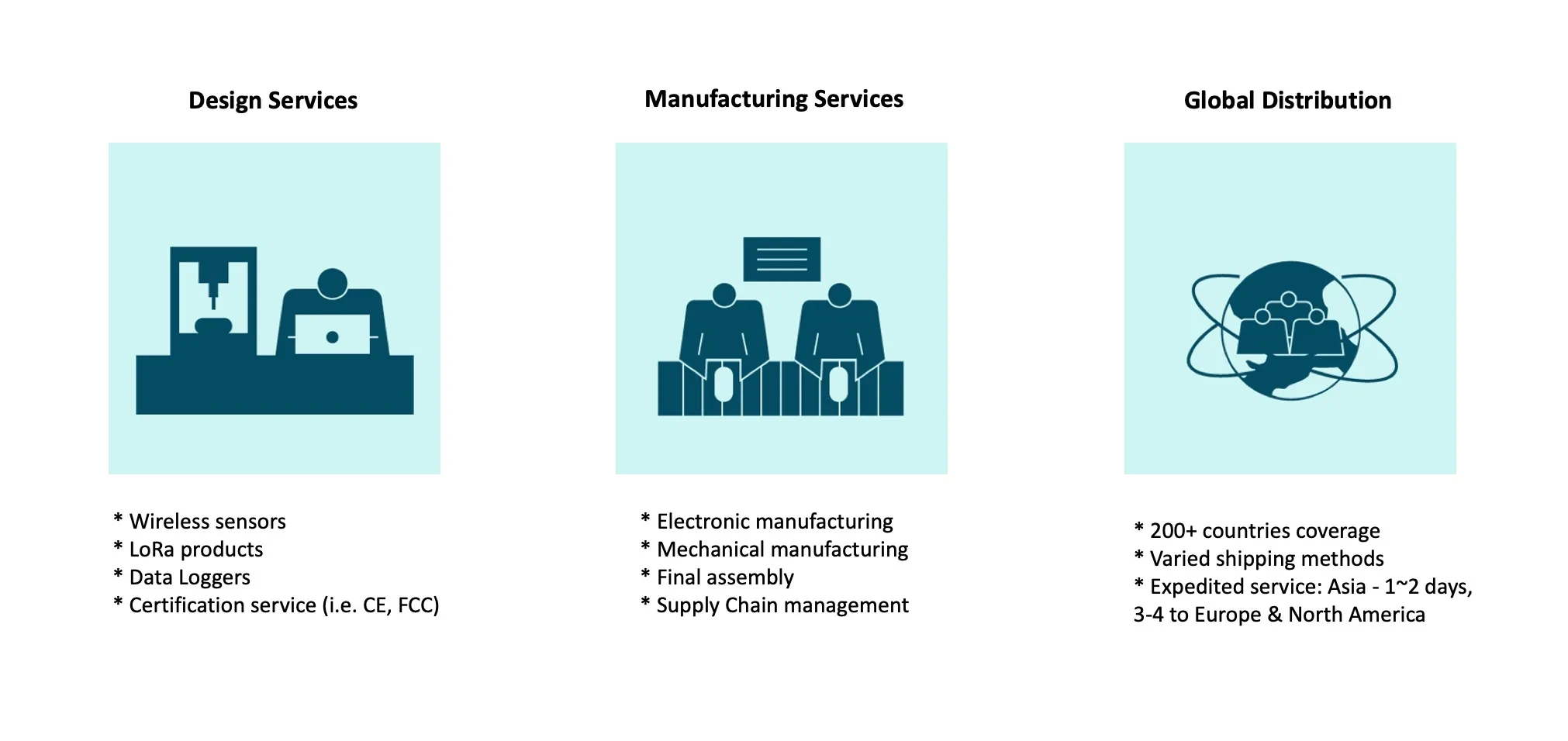 We do also understand the tight schedule you might be on to put out your designs, so don't be shy to approach us and let us know how we can support you! With our team of experienced professionals on board, we will definitely be able to fulfil all your custom-designs you envisioned.
Here's a basic timeline of our process should you be interested in ODM:

For a more detailed timeline, click here!
If you're interested in our customisation services, feel free to contact us and we will quote you a price, or simply check out our customised electronic manufacturing service page to learn more!
---
Summary
And that's all on our Beaglebone® Green boards! If you haven't heard of our Beaglebone® Green boards already, do try them out today! We hope that you now have a better understanding of the industrial applications and our customisation services as well.
For more Beaglebone content, check out my other article on Beaglebone vs Raspberry Pi: Which SBC is better?
About Author