#MonthlyWrap-up August: TinyML, OpenWrt, LoRa, Projects, Giveaways, and More…
For this post, we'll cover 10 awesome projects from the community, contest, giveaway and campaigns that we're running, new products, IIoT Solutions and even secret recipes of prototyping and manufacturing.
Hey community,
At the beginning of the lovely September, please allow me to introduce our recap of August. For this post, we'll cover 10 awesome projects from the community, contests, giveaways, and campaigns that we're running, new products, IIoT Solutions, and even secret recipes of prototyping and manufacturing.
Now, please enjoy our August Monthly Wrap-up, have a good read.
News that You Might Wanna Know
1. We are now on Discord 🙂
Yes, we are finally having our community on Discord. Join us and be part of the community; interact with others in our text channels, use the GET HELP channels to get help from the moderators, enter the project channel to show and tell the projects that you made. It's the right place for a 24/7/365 making, sharing, and helping each other out. Read more.
2. Call for Makers: Show Your Project at Maker Faire Shenzhen 2021 Virtually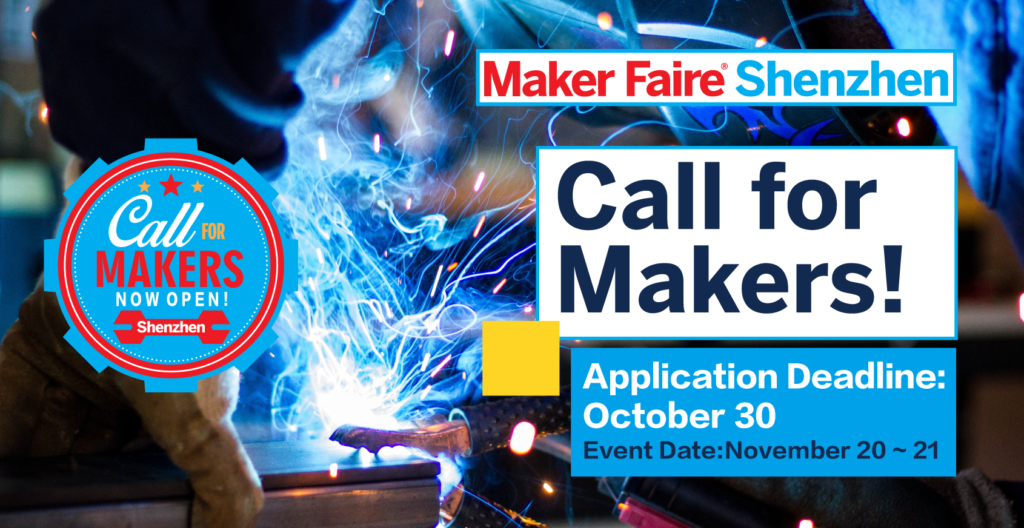 After a year of hiatus, we're back with a global shoutout to call for makers to join us at our upcoming Maker Faire Shenzhen 2021 on November 20-21, 2021. We're calling 100 makers to demonstrate your projects on our online channels. For those projects that get approval, they will be not only exhibited on our website and spread out through all our channels, but also given a chance to be displayed on-site during the 2-day event in Shenzhen. We'll select 20 projects that we love the most, award the Blue Ribbons, and show the projects to all the audience through pictures and videos at Maker Faire Shenzhen 2021 on-site. Read more.
3. Seeed Is Now a TinyML Foundation Sponsor and Partner
We're happy and honored to support the tinyML Foundation and its emerging community as a Gold Sponsor. It's always inspiring to collaborate and work with the community. tinyML Foundation is a non-profit professional organization focused on supporting and nurturing the fast-growing branch of ultra-low power machine learning technologies and approaches dealing with machine intelligence at the very edge of the cloud. More details.
4. reTerminal is now certified as an AWS IoT Greengrass device by Amazon
As an AWS Select Technology Partner, we're happy to announce that our reTerminal is now certified as an AWS IoT Greengrass device by Amazon, listed in the AWS Partner Device Catalog. It means that this device is qualified to support the Amazon SageMaker Neo DLR and TensorFlow Lite frameworks to perform ML inference at the edge with Amazon Web Services (AWS) IoT Greengrass on locally generated data using cloud-trained models. Read more.
️Community Project Spotlight
1. Multi-stage inference with Edge Impulse/Tensorflow Lite –reTerminal (Raspberry Pi 4 CM inside) by Dmitry Maslov
Multi-stage inference in Computer Vision most of the time involves a combination of object detection and image classification in a single multi-model pipeline. It's always applied to object detection and OCR (or optical character recognition). For this article, let's take a car model recognition as an example. In Edge Impulse train a car detector. Full tutorial here.
2. Wio Terminal Publishing MQTT Messages To AWS by Majed Abouhatab, P.E.

This is a tutorial for people with AWS account and familiar with Arduino IDE. Both are free. In detail, he will publish collected data every 30 seconds, but the code can be easily modified to publish something more useful such as temperature or output from the light sensor. The code he used to publish MQTT messages to AWS can be found at the end of this tutorial. Read tutorial.
3. Microsoft AI: Discover AI Nose Tech Minute and AI Lab by Benjamin Cabé

Most of us can usually recognize the smell of coffee, vinegar, or smoked paprika, but is it possible to create an AI system that can do the same? Check out Microsoft's AI Lab to learn how Benjamin Cabé designed an electronic nose using off-the-shelf, IoT-enabled hardware, and embedded ML. Read more.
4. Video Tutorial: Motion Recognition on a Microcontroller such as Wio Terminal Using Graphical Programming
Still, worried that you might give up writing lines of complicated codes when you're getting started with tinyML (embedded machine learning)? Here comes a perfect way-out for you: our dear friend Vincent Kok made this special detailed step-by-step video tutorial on how to achieve motion recognition with Wio Terminal using the drag-and-drop graphical programming platform Codecraft. Yes! It is just that simple to master the cutting-edge tinyML with visual programming! Watch the video here.
5. Wio Terminal Weather station using BME280 and PlatformIO by Francesco Azzola
This interesting project Wio Terminal Weather station using Bosch Sensortec GmbH BME280 and PlatformIO Labs was made by Francesco Azzola. In this project, he covers how to build a Weather station using Seeed Wio Terminal and BME280 sensor. In more detail, we can learn how to use BME280 sensor with Wio Terminal, Wio Terminal LCD display and how to show data, and how to use PlatformIO with Wio Terminal. Details here.
6. Smart Indoor Harvesting Using Wio Terminal & Blynk by Mithun Das
Cloud-connected, fully automated, smart indoor herb harvesting using Seeed Studio's Wio Terminal and Blynk app. Read tutorial.
7. Wio Terminal Chirping birds detection using machine learning: Audio classification by Francesco Azzola 
The tutorial details how to build an Edge Impulse tinyML model to detect and classify chirping birds with Wio Terminal. Read more.
8. No Pause by Naveen Kumar
A non-invasive solution for hot flashes during menopause using machine learning and Grove – Thermal Imaging Camera. Read more.
9. Blood Oxygen Heart Rate Meter by 陈亮
These Instructables show how to use MAX30102, Seeeduino XIAO, and a tiny display to build blood oxygen and heart rate meter. Read more.
Events, Giveaway, Contest and More…
1. FREE Giveaway: 10 Wio Terminals and No-Code Programming TinyML Course for STEAM Educators!

To celebrate the launch of our graphical programming platform Codecraft which supports TinyML , Seeed is now hosting a giveaway for STEAM educators, with not only the 80-page PDF course "No-code Programming to Get Started with TinyML by Projects" to help educators to introduce machine learning courses to their classrooms, but also FREE Wio Terminals! All participants who comment will get a link to download the 80-page PDF courses. We'll select 10 lucky educators who commented to give away 10 Wio Terminals on September 16, 2021. Join the campaign.
2. Share Your Wio Terminal Project Contest to Win up to $300 Seeed Coupon
We've launched the "Share Your Wio Terminal Project Contest, aka. the Easiest Ever Contest". All Wio Terminal project creators are invited to submit your projects to win the prize: a shopping coupon on Seeed Bazaar with a value to cover your expenses for all products that you bought from Seeed for the project. And there will be an extra plus for those projects that we select in the contest. We will publish your project as a kit on Seeed while you as the project creator will be mentioned with referral links on the project kit page. We've seen a ton of great Wio Terminal project ideas emerging already in the community; Don't miss your chance to be one of the winners! More details about the contest.
3. Edge Impulse Imagine 2021: Learn to build Benjamin's Artificial Nose with Graphical Programming

On Oct 1st at Edge Impulse Imagine, at 9:30 AM (PDT), we'll partner with Benjamin Cabé to bring you an online hands-on workshop, where you can learn how to use Codecraft, the Edge Impulse powered graphical programming platform, to build your first TinyML projects. Join the online workshop with us. More to read.
Meanwhile, on Oct. 1st, Eric Pan, Founder and CEO of Seeed, will be invited to the panel of Inspiring the Next Generation of ML Developers. The discussion will focus on the work of the developer community, emerging trends and applications, as well as the adoption of tinyML-compatible hardware and tools. 
4. 30 pcs Arduino Beginner Kits and Books Free Giveaway for STEAM Teachers!
To contribute further to the world of STEAM education, Seeed is hosting a giveaway event for educators, with not only Arduino Beginner Kits, but also a 74-page printed textbook (wiki + 12 step by step project tutorials) to help educators better teach Arduino in a fun and easy way! 30 lucky teachers will win a Grove Beginner Kit for Arduino and book bundle for use in their classrooms! Read more.
New Open-Source Products & Updates
01 New Arrivals: CAN-BUS, Sensors, Dev. Board and more
Every month, we'll release new products. To get more details about these new arrivals, please visit here.
02 Tech Updates: Seeed OpenWrt-Running on X86 and CM4
Learn how to install Plex Media Server as a Docker container on Seeed OpenWrt firmware. By using Plex Media Server, you can stream all your local media from anywhere in the world! Here OpenWrt can run on the ODYSSEY – X86 Board or the Dual Gigabit Ethernet Carrier Board for Raspberry Pi Compute Module 4. Seeed OpenWrt on X86 and CM4 | Installation, Wi-Fi Client/ AP, Speed Test.  You can learn more on our Wiki.
IIoT Solutions
1. New Solution: Meteorological Conditions' Impact on Air Quality and Compact Weather Sensor' Role

Different meteorological conditions such as temperature, air pressure, wind speed & direction, and precipitation will affect air quality. By monitoring the weathering data with all-in-one SenseCAP WeatherStation, you will be able to make data-driven decisions for creating a better environment. More details.
2. Success Case | Smart Durian Farming – The Differentiator Code by MIE
Seeed's SenseCAP LoRaWAN devices enabled IIoT solution for Malaysia's durian farming sector, tracking environmental growth conditions of the sensitive tropical fruit. The Project was successful in drastically decreasing the amount of human labor and natural resources, and predicting suitable irrigation and pest control periods. Therefore, this Project, directly and indirectly, influences the UN's SDGs 9, 12, 8, 2, 13, 16, 6, 7, 11, 17. More to read.
Prototyping and Manufacturing
1. How to Choose a PCB Assembly Manufacturer
To determine the reliability and competency of a PCB Assembly manufacturer, you can make a preliminary judgment by checking the qualifications obtained by the PCBA manufacturer and by reviewing the capabilities and production equipment. In this article, we will discuss in detail which qualifications and technical capabilities are the most important. More to read.
2. LoRa-E5 Prototyping and Manufacturing Sponsorship
The long-awaited Lora-E5 module is back! LoRa-E5 has received much welcome fanfare from the IoT community, so now, to better support them and the production of LoRa projects, Seeed has launched another sponsorship event. Get $250 off when your LoRa-E5 design is manufactured with Seeed Fusion PCB Assembly! More details.
3. What has been prototyped at Fusion Gallery
Fusion Gallery is the place where hosts the projects that are prototyped with our Fusion services. This month, let's meet the T. BOOST Factory by david.masferrer and Amstrad CPC External CPU Card by richarde. More details
---
Notes at the end.
If you're new to this session, here is a brief intro to it. We have gotten dozens of requests over the years for a Seeed Monthly Newsletter. Although we already have a newsletter for weekly updates, we still need a place to host overall information about what's happened on a monthly basis. It can offer an efficient and friendly way to get updated for the whole community. And that's what we expect for our Seeed Monthly Wrap-ups. Instead of putting it a subscribe-to-read, we're publishing them on our blog, keeping it as open and accessible as possible for the whole community. For each entry, we will cover awesome projects from the community, campaigns that we are running, new products, IIoT Solutions and even secret recipes of prototyping and manufacturing.
Previous Entries: