What are the essentials for your electronics workbench?
Let's be real, it can be pretty daunting to look at the vast amount of tools when you're just starting out. We wouldn't want to purchase too many tools that would just end up collecting dust either. Thus, this guide has compiled the essential tools you would need to construct a functional electronics workbench!
Recap!
Before we get straight into the tools, lets us refresh our memory and recap on 3 basic electronics concepts: Electrical Current, Voltage and Resistance.
Voltage refers to the difference in charge between the two points.
Current refers to the flow of electrical charges.
Resistance refers to the measure of opposition to the flow of current.
At this point, if you have any doubts or would like to revisit these concepts, you can always find out more: Basic Electronics: Alternating Current(AC) vs Direct Current(DC)
With that being said, we can now move on to everything you will need:
Testing Tools
Basic Hand Tools
Analyzers
Power Supply Tools
Soldering Tools/Kits
---
Testing Tools
Multimeter
Multimeters are electronic measuring instruments that combine several measurement functions in one unit. It usually measures voltage, current, and resistance.
Our mini digital smart tweezer ($59.00) is optional for beginners, but if you want a multipurpose product that not only functions as an ordinary multimeter, then this is definitely a keeper!
What's included:
DT71 Controller
Test Arms
2 x Tweezer Tips
Data Cable
Carrying Case
Safety Instructions
What makes it special:
Unique trinary structure: Controller, Testing arms, and Tweezer tips all in one! They are separable, combinable and replaceable as well.
Portable and compact in size (comes in a carrier!)
Dual built-in rechargeable lithium batteries = lasts up to 10 hours. Yet it only takes 2 hours to charge to full!
Equipped with OLED screen on the 360° rotatable controller, provides visibility at all angles with smart left/right-hand operation.
Various measuring types: resistance, voltage, inductance, diode etc.
The testing arms utilize magnetic elasticity to provide an easy clipping, ergonomic, and long-lasting structure.
Automatically identify SMDs and distinguishes different components quickly.
Built-in miniature waveform signal generator: output waveform signals and helps to debug, provide maintenance for complex electronic systems as well.
Lightly touch the top of the controller to operate! Includes intelligent functions such as automatic identification and Automatic shutdown.
There is no reason not to recommend this tool for any minimalist who wants an all-in-one tool, this mini digital tweezer will definitely satisfy all your needs!
Our Digital Capacitance Meter ($34.90) has a high measurement accuracy and a wide measurement range, which makes it durable and highly reliable. The multimeter is compact, pocket-sized and light-weight as well! This would definitely satisfy any beginner who is looking for a basic multimeter.
What's included:
Digital Multimeter
A pair of probe cables
Black Bag
Measuring connector
Reasons you should get this multimeter:
A basic standard multimeter for beginners
Portable and pocket-sized
LSI application: Low battery indication, fast sampling
Able to show clear reading even in bright places
High measurement accuracy, wide measurement range
We highly recommend this for anyone who wants a simple yet durable multimeter!
Oscilloscope
Oscilloscopes are electronic measuring instruments that enable waveforms to be seen, which makes it very much easier to see any problems occurring in an electronics circuit. Though it may not be necessary for a beginner, it is a good tool to have when you want to troubleshoot issues in your electronics circuit.
The 32-bit pocket-sized digital oscilloscope ($89.00) is lightweight, easy to operate and is equipped with the basic functionalities, which makes it suitable for school lab and beginners.
What's included:
DSO Nano
Metal Stand
Screw
Probe cable
Sack
Why you should get it:
Suitable for beginners, easy to operate
Portable and lightweight
An updated version of DSO Nano, this features a firmware and an embedded 2 MB storage chip.
Built-in Signal Generator
Though it mainly measures volts, it measures various signal forms such as DC/ AC Voltage, Current, Sound, Frequency etc.
This oscilloscope is perfect if you're just trying to learn the basics!
Interested to learn more? Click on the links to find out:
[Wiki] DSO Nano v3
[Blog] Introduction to the Oscilloscope – What is an Oscilloscope and How to use it?
This mini oscilloscope ($179.00) is based on the 5-track 4-wire digital storage oscilloscope, DS213. It features a built-in 8 MB USB stick, which allows users to store waveforms and upgrade the system firmware.
What's included:
SainSmart DSO213 Oscilloscope
X10 Probe Analyzer ×1
X1 Probe Analyzer ×1
Instructions x1
Hex Key ×1
Reasons to get this oscilloscope:
Tiny and portable
Built-in 8 MB USB
Colour display
Able to store waveforms and upgrade system firmware
5-track-4-channel
four application partitions for loading and upgrading up to four different application firmware
This oscilloscope is for you if you need one that is able to provide you with more functions than our previous recommendation!
Once again, if you're interested to learn more about oscilloscopes, click here.
---
Basic Hand Tools
What are hand tools? Hand tools are any type of tools that don't require any motor or electrical power. Some categories include Pliers, screwdrivers, wire strippers etc.
It goes without saying that hand tools are absolute essentials in an electronics workspace since it comes in "handy" pretty often (unintentional pun). Thus, we will be looking at some essential hand tools for your electronic workbench!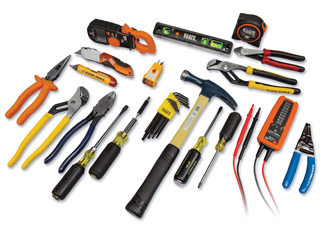 The purpose of a diagonal plier is to cut wires or small pins in areas that cannot be reached by larger cutting tools, its cutting edges are offset by 15 degrees. Thus the name of this tool.
The one recommended is a standard pair of pliers ($4.90) that would be sufficient for all your needs: wire cutting, headpins, eye pins, small chain, cords, beading etc. It features steel construction which makes it durable as well.
A ratcheting crimper plier allows you to hold wire and make crimps. It also features a ratchet release in case you crimp the wrong wire.
This recommended pair of pliers ($16.90) would be of help when you're making Grove connectors or female jumper wire. The ratcheting design also allows you to get work done with less strength.
As its name suggests, a wire stripper ($4.90) is used to strip and cut off wire insulation, a necessity for an electrician. But it is capable of stripping the ends of an electric wire and connect them to other wires or to terminals too.
Our wire stripper also features spring-loaded action for self-opening and its ability to strip 20-30 AWG solid/stranded wire.
Screwdrivers are used for screwing and unscrewing screws.
The pole of our screwdriver ($1.00) is made out of chrome vanadium alloy steel, the head has undergone a hardening treatment which makes it sturdy and durable. Moreover, the handle is designed to be anti-slip and user-friendly.
In case you're interested in a cordless power screwdriver, click here for more info.
Tweezers are small tools that allow you to pick up small objects, the one you used to pluck your brows will not be able to help you! Thus, it's vital to get an ESD safe (Electro-Static Discharge) tweezer for electronic use, or it may cause static damage.
Our tweezer ($3.50) is made out of high-quality stainless steel, with a straight head. It is also anti-magnetic and anti-static, which makes it the perfect tweezer for soldering.
Another alternative is the Straight Tweezers – ESD Safe!
---
Analyzers
Analyzers are tools used to analyze data. In electronics, there are a few types of analyzers: Antenna Analyzer, Logic Analyzer and Spectrum Analyzer. Let's look at some essential analyzers and each of their uses!
Antenna Analyzer
Antenna Analyzers are mainly used for measuring the input impedance/ Standing Wave Ratio (SWR) of antenna systems in radio electronics applications.
How it works:
Checking and tuning antennas
Impedance matching
Components test
Cable fault location
Measuring coaxial cable parameters
Cutting coaxial cables to precise electrical lengths
The SARK-110-ULM Antenna Analyzer ($220.00) is a multi-purpose instrument that not only does everything an Antenna Analyzer could do, it also features a Time Domain Reflectometer (TDR) mode which is intended for fault location and length determination in coaxial cables. Thus, making it the perfect entry-level Antenna Analyzer.
What's special about SARK-110-ULM Antenna Analyzer:
Lightweight and portable
Built-in battery able to lasts up to 8 hours on one use.
Frequency range up to 700 MHz
Easy to operate: a graphical display and an intuitive user interface
Designed for standalone operation, but if you use the software SARK Plots for Windows or Android, you'll be able to control it through Bluetooth or USB.
Ideal for receiver calibration, sensitivity tests, and signal tracing as a signal generator.
For SARK-110 antenna analyzer, click here.
[Doc] SARK-110 Antenna Analyzer Manual
Logic Analyzer
Logic Analyzers are electronic instruments that capture and display multiple signals from a digital system or digital circuit. They are often used to develop and debug electronic logic circuits as well. Thus, they play a very important part to test complex digital and logic circuits to ensure the system is working smoothly.
LA104 ($89.00) is often used in automotive electronics, communication, power supply and computer, due to its ability to store and collect multichannel digital signals. Furthermore, it is equipped with the function of protocol analysis and can parse the logic signal of the protocol's physical layer into data of the high layer protocol and display them on the screen.
What's included:
Logic Analyzer
5 x Hooks
20 x Dupont Cables
Safety Instructions
What's special about the LA104:
Portable and compact
Built-in 8 MB Flash Storage
Equipped with protocol analysis, which can parse logic signal of the protocol's physical layer into the higher layer protocol and display them on the screen.
Spectrum Analyzer
Spectrum Analyzers are test instruments used to look at signals in the frequency domain, it measures the power of the spectrum of known and unknown signals. They look pretty similar to an oscilloscope and its usually used in electronics manufacturing, base service and repair etc.
The RF Explorer 6G COMBO+ is the most powerful Spectrum Analyzer model in its series. The RF Explorer comes in combos such as ISM Combo, 3G Combo, 6G Combo etc. This model covers the full 6GHz range starting at 50KHz up to 6.1GHz with no gaps or limitations.
What's included:
Spectrum Analyzer
Mini USB cable
Dual band 144/430MHz Telescopic antenna
UHF 400-900Mhz antenna
Dual band 5/2.4GHz antenna
EVA case
Why we recommend RF Explorer 6G COMBO+:
The most powerful Spectrum Analyzer model
The slim design gives it a sleek outlook, featuring a solid metal case with high-quality varnished paint
Lightweight and portable
High capacity internal Lithium battery = lasts 10 hours or more
New HELP and SET buttons to improve user interface and PRESET configuration selection with 2-clicks.
Multi-platform Windows/Linux/MacOS Open Source software and API libraries.
To learn more about RF Explorer, click here.
[Blog] Introducing RF Explorer Spectrum Analyzer Product Family
---
Power Supply Tools
Although it may not be super necessary for beginners, however, it's always nice to have for power circuits in future!
This electronic load ($89.00) is able to perform battery capacity, charging/ discharging and power performance tests, with a built-in 24 V power module. Additionally, it supports up to 30V/10A/150W as well.
What's included:
1X ZKETECH EBC-A10H AC Electronic Load/Battery Capacity Tester/Power Supply Tester 30V 10A 150W
Power Cable
4X Crocodile Test clips
USB Interconnection Cable
Why you should get it:
An electronic load suitable various battery charge, discharge testing and power performance testing.
Supports up to 30V/10A/150W
Digital display of test data such as voltage, current, capacity etc.
EB software is used to display relevant test information precisely
Supports curve drawing, computer control and firmware upgrades etc.
We recommend this to anyone who wants an electronic load that can perform highly accurate testings and software that supports all your needs.
Alternative option: ZKETECH EBD-A20H DC Electronic Load/Battery Capacity & Discharge Tester/Power Supply Tester 30V 20A 200W
MDP refers to Mini Digital Power System ($199.90), a system of programmable linear DC power supply that is able to connect different modules for use. It consists of a display control module and a digital power module, thus it has a wide range of uses: tests and experiments in R&D laboratory, maintenance of digital products, power supply testing etc.
What's included:
1 x MDP-M01
1 x MDP-P905
2 x 4mm Banana Plug to Alligator Clip
1 x 2.5mm Audio to Micro USB Cable
1 x User Manual
Reasons to get it:
Highly cost-effective! Capable of fulfilling all your testing needs
Consists of a display control module and a digital power module
With its 2.4G wireless connection, it is able to achieve multichannel free combination at the power of 90W per channel.
A few functions of the MDP-M01 Display Control Module: displays voltage-current waveform in real-time, automatically pair with and control six sub-modules (digital power modules) etc.
A few functions of MDP-P905 Digital Power Module: support precise fine-tuning, high-speed transient response and high-efficiency linear output.
This power supply kit is perfect if you're constantly experimenting with circuits or systems!
---
Soldering Tools/Kits
Soldering allows you to join different types of metals together by melting solder. This also allows you to form a strong electrical bond between your target electronic components.
This is one of the fundamental skill to learn in electrical engineering. Thus having the right soldering tools is absolutely essential as well. Let's look at some of the tools and kits we offer here at Seeed!
This kit ($99.00) provides you with the basic tools you need to start your soldering journey! We understand that you may feel lost, not knowing what basic soldering tools you should get. Therefore, we made an All-in-one kit that is made to suit beginners, veterans can also get this to build up their soldering kit as well!
What this kit contains:
Mini Soldering Iron Operating Part x 1
PCB soldering kit Soldering Iron Tip Type-BC2 x 1
Earth Clamps x 1
Soldering Tron Tip Type-B2 x 1
User Manual x1
Soldering Iron Stand x 1
Small Carrying Bag x1
DC5525 Power Adapter x 1
Reasons why you should get this kit:
The kit is more cost-effective as compared to individual components! Eg. The mini soldering iron is lightweight, small and heats up rapidly (cold to 300℃ in 10 seconds), costs $74.90 separately.
It comes with a leaf-like PCB board to guide beginners through and provide extra practice for veterans.
Equipped with dual temperature and accelerator sensors (ensures your safety with Sleep mode and Alert mode)
This package includes all the add-ons required for you to fully utilize the mini soldering iron!
We offer the same kit in US Standard as well! Click here if it interests you!
Should you require any additional information about this kit, visit our wiki here!
Our mini soldering iron ($74.90) is lightweight, portable and heats up quickly. It features accurate temperature controls, ranging from 100 to 400 Celsius. Sleep and Alert mode is installed to ensure your safety at all times as well.
What's included:
Mini Soldering Iron Operating Part x 1
Solder iron tip type-BC2 x 1
DC5525 power adaptor (Europe Standard) x 1
Earth clamps x 1
Apart from the Europe Standard, we do offer the US Standard as well.
If you need more soldering accessories such as solder tips and solder stand for your mini soldering iron:
---
Summary
And that's it! These are the essential tools you should get to build your very own electronics workbench. Many of these tools may not seem necessary when you're just starting out, but it will definitely serve you well in the long run!
Let us know what are the essentials you would include in your electronics workspace! Feel free to check out more relevant contents like this if you've enjoyed it:
Building your own Engineer Work Bench: Must have tools for every engineer!
Work from Home: What Do You Need for An Electrical Engineer's Home Lab