A Recap of Seeed IIoT Journey in 2020
It's the last day of 2020! We would like to send you holiday greetings from sunny Shenzhen, China, where Seeed headquarter is located. It's been a challenging year, which we did not imagine this way at the beginning of 2020. And yet, the bright side is we are through these obstacles together. Let's keep the positive attitude going, looking at and seeking for the bright and beautiful sides, keep them shining, and at the same time strive for a better year in 2021!
While we have to change a lot during this passing year to adapt to this changing world by changing the way we live, study, work and communicate, we are grateful that the advance of technology has enabled us to keep our pace forward albeit all the unexpected challenges.
In today's blog post, I'd like to share with you some of the highlights of Seeed's IIoT journey, with focuses on IoT products (especially industrial IoT), events, some use cases, partnerships, and more!
For those of you who are currently reading this blog, you might have known that Industrial Application Group (IAG) is a new business group within Seeed, with a focus on IoT, especially industrial IoT products. Why? Because we've seen there are a lot of, and increasing needs for industrial-grade IoT products when many industries are going through the transition of digital transformation. And we decide to put our accumulated resources and experience in designing products into action. As a result, we started to design professional, reliable industrial-IoT products to serve these emerging needs.
Without further ado, let's start the journey of "Seeed IIoT in 2020"!
IoT Product Highlights in 2020
While traveling was restricted in 2020, our team has been putting more focus on research and development, and there are some main milestones in Seeed IAG's product development.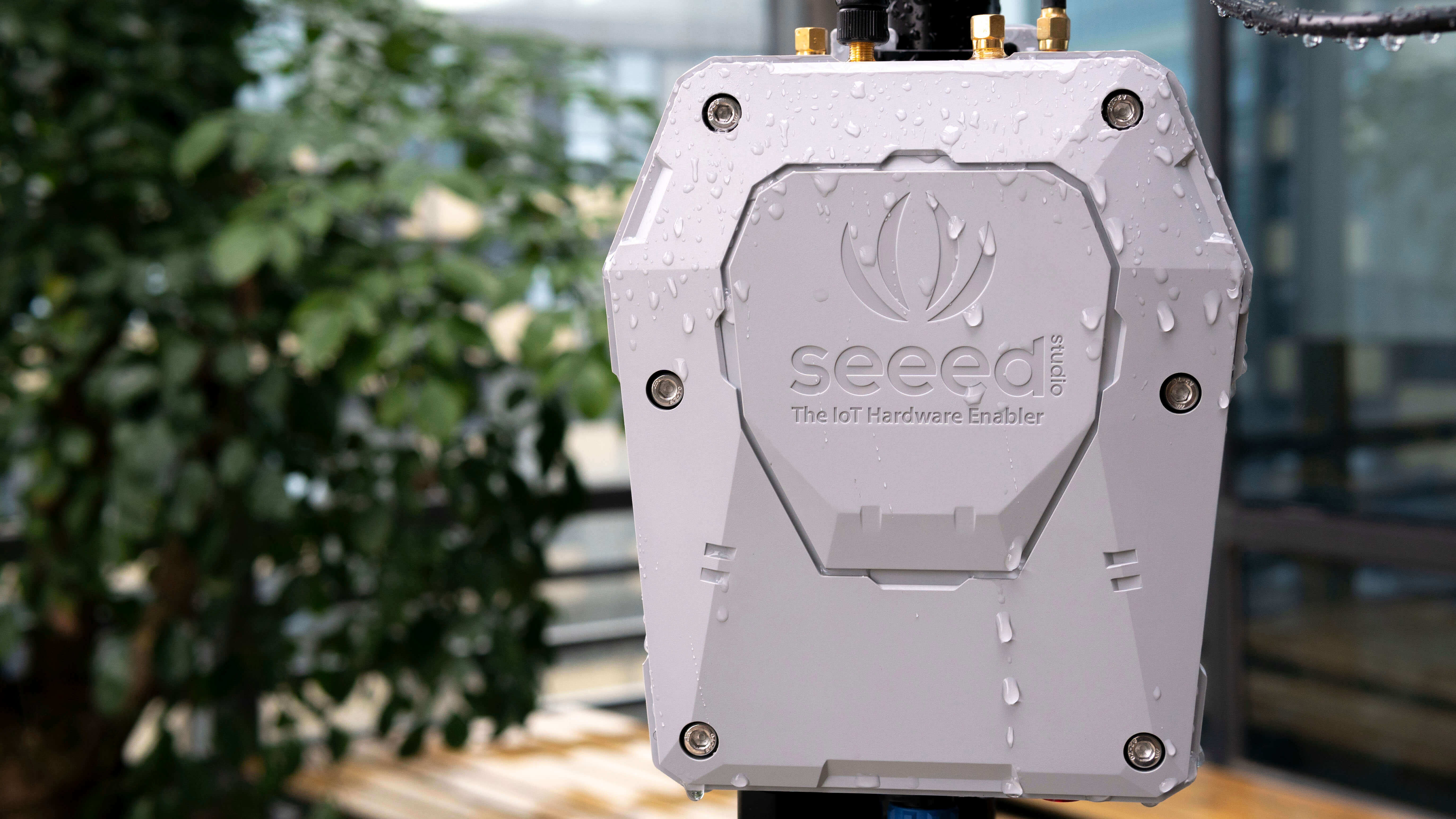 After SenseCAP LoRaWAN products were deployed and tested in the field for more than one year, we've received a lot of candid and invaluable feedback from partners and users. Based on the feedback, we further analyze and improve the products. With sets of testing and optimization (you can learn about how we tested the products via this blog series), we finally launched the SenseCAP LoRaWAN series products in May 2020, making them available for purchase globally. The products were soon out of stock, and we kept restocking the products to meet the demands from distributors and system integrators alike. Thank you very much for your patience.
Currently, the SenseCAP LoRaWAN series have been sold to Malaysia, Japan, Brazil, South Africa, Serbia, United Kingdom, United States, Australia, Indonesia, Thailand, and many other countries and regions. Thank you very much for choosing Seeed SenseCAP!
While the products are sold on the market, we didn't cease improving the products. With the feedback from our dear customers, we upgraded the SenseCAP LoRaWAN series and now the whole system is interoperable. SenseCAP LoRaWAN sensors can work with any standard LoRaWAN gateway, and SenseCAP LoRaWAN gateway can also work with any standard LoRaWAN sensor. We've created detailed documentations here for your convenient provisioning. Besides, on the cloud platform, you can choose to use the SenseCAP server, your own The Things Network server, or ChirpStack based on your preference and project needs.
We also obtained the LoRaWAN Certification from the LoRa Alliance authorized testing house in Japan. Now SenseCAP is LoRaWAN certified!
Apart from LoRaWAN products, we've also put resources into designing a new product line – Sensor Hub, which is a powerful data logger that can be connected to a maximum of 40 RS-485 sensors. And the data is transmitted to the cloud via 4G networks. It can work with any standard RS485 sensors so that users can easily connect their existing sensors to the Sensor Hub, deploy them in the field, and get the data conveniently.
This product is currently in the process of mass production and should be available for purchase in the coming weeks. Stay tuned!
Among some of the most-worth-mention products are the SenseCAP ONE series of weather sensors, which can be used with the above-mentioned Sensor Hub 4G Data Logger to build a standard compact weather station. Weather stations are widely used in monitoring environmental data in the scenario of smart agriculture, smart city, traffic weather, and many others.
SenseCAP ONE series includes a collection of several models, all of which are multiple-in-one meteorological sensors. SenseCAP ONE series features high accuracy, high stability, and high robustness. The all-in-one design with the radiation shield makes it easy to install, without the fuss of maintenance.
The SenseCAP ONE series made its debut in August 2020 and currently, some models are under production, and will be available for purchase very soon! We will come up with a series of blog posts in the coming 2021 to introduce the concept behind the design of this series of products, how they are tested, and what are the application scenarios of these weather sensors. If there are other contents you want to know about the SenseCAP ONE series, leave us comments! Thank you!
After the availability of the SenseCAP LoRaWAN series, we've received requests from customers and potential customers about the needs of other sensors. Hence, we started to work on two paths simultaneously: (1) provide some of SenseCAP sensor probes in a standalone format, so that customers can connect it with your own data logger or other systems, one of the examples is the CO2 Sensor Probe; (2) talk with partners and add more products into the collection of the IoT categories, making it convenient for our customers to choose the right products for their customers or their own applications.
The new collection includes dozens of sensor probes, such as soil moisture and temperature and EC sensor, pH sensor, optical rain gauge, water leak detector, and liquid level sensor, etc.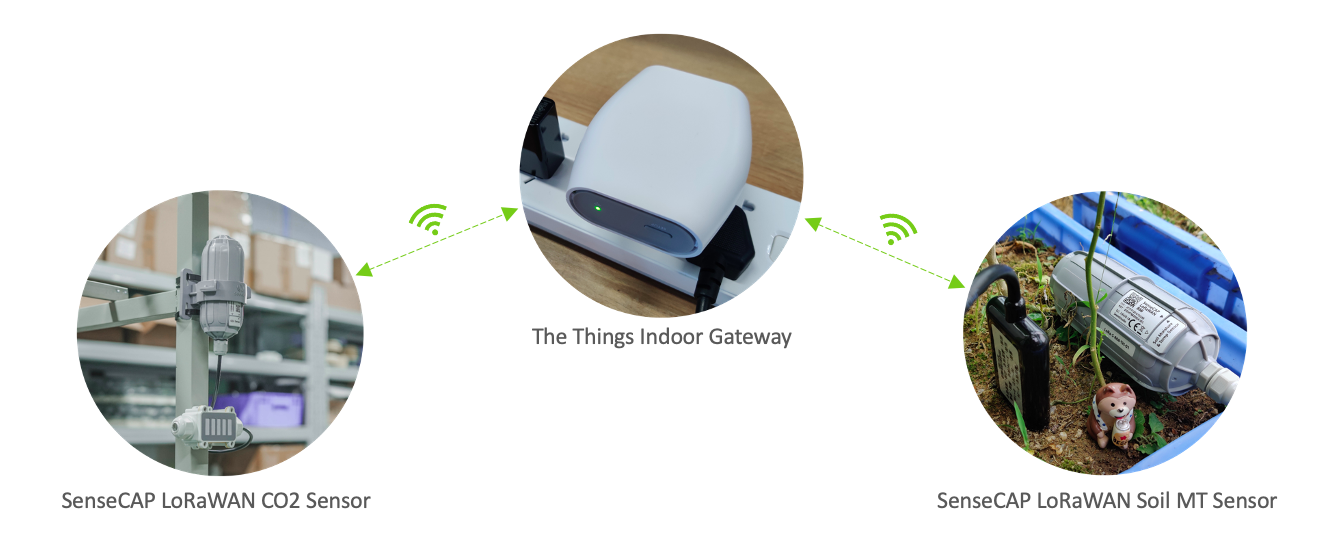 Apart from the sensors, we've also included The Things Indoor Gateway into the collection, with US915, AU915, and EU868 versions available. We've also created a tutorial to show how to use The Things Indoor Gateway with SenseCAP LoRaWAN sensors, as an example of using the TTIG with any standard LoRaWAN gateway.
By communicating with different customers and partners, we understand there are also increasing needs for LoRa modules, as more and more companies are designing their own LoRa sensors for different application scenarios. Hence, we launched the LoRa E5 module, which contains ST system-level package chip STM32WLE5JE, and STM32WLE5 is the first SoC integrated with the combo of LoRa RF and MCU chip.
It features low-cost, ultra-low power, extremely compact, and high-performance. With a wide working temperature at –40℃ ~ 85℃, it is highly suitable to be adopted in designing industrial-grade LoRa sensors.
This LoRa module was sold out within 2 days after it was available on our e-commerce platform – Seeed Bazaar. And we are currently in the process of a new batch of production. It should be back in stock by January 31st, 2021. Thank you very much for your kind patience.
With Seeed's experience in providing DFM, agile manufacturing, and mass production services to tech companies and startups for more than a decade, we are confident that we can provide optimal services along your path from designing a product with LoRa E5 module to mass production and delivery to your customers. Talk to us whenever you need support! (Drop a line at iot[at]seeed[dot]cc).
Trade Shows We Participated in 2020
Due to the influence of COVID-19, many of the events were either canceled, postpone, or moved online. The first half of 2020 was comparatively quiet, and in the second half of 2020, we've constantly participated in many events, including expos, conferences, and webinars, etc. For the focus on Industrial IoT alone, we participated in 18 events in 2020. And here are some of the highlights.
On Jan 30~31, 2020, we participated in The Things Conference, the World's largest LoRaWAN Conference organized by The Things Network, in Amsterdam, the Netherlands. We showcased SenseCAP, the industrial IoT LoRaWAN series products, which received very positive feedback from the event participants.
Kevin Yang, Director of Product Management at Seeed IAG, hosted a workshop to show how to use SenseCAP. And one of the participants Mr. Sander van de Velde wrote a blog about SenseCAP after the event.
Shuyang Zhou, Director of Sales at IAG gave a keynote speech to introduce Shenzhen's innovative capabilities and use cases of adopting open technology for sustainable development. Besides, she also introduced the SenseCAP LoRa solution during an interview at the conference.
While we were in Europe participating in The Things Conference, we were worried about our families and friends in China as the COVID-19 was in an intense situation in China then. We were grateful for all the kindness, help, and support that everyone, including our partners, customers, suppliers, and even strangers that we encountered during the trip, has given us during that harsh time. We would like to give you a heartfelt THANK YOU from all of us at Seeed! Meanwhile, we were humbled to be able to provide support and return the kindness when our partners and friends need them, especially when the battle against COVID-19 was under control in China since March 2020.
After the conclusion of the Embedded World in Nürnberg, Germany, the whole world began observing social-distancing and "work-from-home", with all events, moved online, canceled, or postponed. We were grateful that we were able to communicate with each other via emails, video, and audio calls!
And the next trip we made was to Shanghai, participating in the China High-tech Expo on Meteorological Modernization, which took place on August 19~21, 2020. This was the first time we debuted the SenseCAP ONE series weather sensors. Even though the number of participants in this Expo was comparatively smaller than the previous year, we've got to meet many potential customers and communicate with partners in the meteorological industry. SenseCAP ONE series of products also received very positive feedback together with reservations for deployment in different application scenarios!
August was a super busy month for us. We participated in two trade shows in the same week. Apart from the above-mentioned China High-tech Expo on Meteorological Modernization in Shanghai, we also participated in the Guangzhou World Agriculture Expo in Guangzhou.
Besides showcasing our IIoT products at the very large booth, Joey Jiang, the General Manager of Seeed IAG also gave a keynote speech at the forum of this trade show. Joey's speech "Empowering the Digitization of Agriculture with IoT Technology" highlighted how IoT technologies can help lower the cost, enhance yields, and add value to the agricultural industry.
Our exhibition at the Guangzhou Expo not only attracted potential partners and customers to visit and communicate for future partnership but also received coverage from local and national media outlets, among which, Shuyang, our Director of Sales received an interview from Sansha TV News.
We first participated in the Nanjing Expo last year to showcase SenseCAP LoRaWAN series products, with several demos for smart agriculture in greenhouses and outdoor wheat farms, etc. SenseCAP was awarded as "Smart Agriculture Innovation of the Year"!
This year, apart from the SenseCAP LoRaWAN series products, we also showcased SenseCAP ONE series compact weather stations at the Nanjing Expo. Understandably, this year's trade shows were under very strict management to cope with COVID-19, and the participants are not as many as in previous years. However, what we gained from the trade show was exceeding our expectations, with new partnerships as well as recognition for our products, design, and innovation capabilities!
Dubbed as "the No. 1 Technology Show in China", China Hi-Tech Fair is the largest and the most influential scientific and technological fair in China. Our CEO Eric Pan gave keynote speeches at the China Hi-Tech Fair in the past years. And this year was the first we exhibited at this event.
Seeed booth was located at the Smart Pole section in Hall 1 (focusing on Information Technology). A highlight of our exhibits was SenseCAP ONE series, the industrial-grade meteorological sensors/compact weather stations. SenseCAP ONE series is highly suitable to be deployed with light poles to construct smart pole applications that are widely deployed in cities and towns. (see the image below).
Shuyang was also invited to give a speech at the CHTF. During the speech, she mentioned how the commercialization of weather and climate data can make a huge impact on different industries. Later on, she introduced how we tested the SenseCAP ONE series products to ensure the products meet industry standards, as well as many use cases of weather stations in retail, transportation, sporting events, agriculture, construction, and more!
Compared with other trade shows, the Guangzhou Expo was a special one, because it included "demonstrations in the field" as a format of the exhibition. Apart from the indoor and outdoor exhibitions, the "demonstration in the field" provided a straight-forward way for participants to learn how different technologies can be applied in empowering agriculture when entering a smarter era!
Seeed's demo in the field received very positive comments and praises from visitors, including growers, government officials from the agricultural department; experts & professors from agricultural institutes such as South China Agricultural University and Guangdong Academy of Agricultural Sciences, etc.
The above-mentioned are a small part of the trade shows we partook in in 2020, we've also participated in the Modern Agri Tech Expo in Yinchuan, Ningxia; Hu'nan International Smart Agriculture Expo in Changsha, Hunan Province; TOP100 Tech & TOP20 Devices for Agri & Food Press Release in Nanjing, Jiangsu Province; and many others!
Conferences We Participated in 2020
Apart from exhibiting our IIoT products at different trade shows, we've also participated in different conferences, to give speeches, or join panel discussions, and communicate with industry experts, to share and learn!
Seeed was invited to participate in the 6th China (International) Smart Agriculture Application & Innovation Forum (iAgri China) on Sept 25~26 in Shanghai, China. This Forum focused on the application of 5G, AI, and IoT in smart agriculture, with experts from the government, universities, research institutions, farming industries, and enterprises to share their insights on how diverse technologies can contribute to the future of agriculture.
Our General Manager of Industrial Agriculture Group, Joey Jiang, participated in the event and gave a speech " Empowering the Digitization of agriculture with IoT and Sensor Technology", with a highlight on the roles of IIoT solutions in the digital transformation of agriculture.
Seeed CEO & Founder Eric Pan was invited to participate in the annual China Mobile Global Partners Conference. During the speech, Eric shared Seeed's efforts in serving the developer community with state-of-art technology. By closely communicating with partners and customers, Seeed is dedicated to contributing to the digital transformation of vertical industries, especially the scenarios where environmental-sensing technologies are needed, such as smart agriculture, smart weather stations, and smart city, etc.
the 6th Asia Environmental Innovation Forum in Shenzhen, Nov 29, 2020
With the invitation from TNC (The Nature Conservancy), I was honored to join the panel discussion at the 6th Asia Environmental Innovation Forum, which was co-organized by AEIF and TNC China.
The forum's theme is "Biophilic City and Sustainable Innovation". While the panel's topic is "Exploring the Possibility of Healing Divide Between Human and Nature", moderated by Xunyu Zhang, from the Nature Conservancy Shenzhen Program, with the following panelists:
Weidan Zhou, Senior CSR Expert, Alibaba Foundation
Songying Zhang, Marine Project Manager, World Wildlife Fund
Wuying Lin, Director of Science, Guangxi Biodiversity Research and Conservation Association
Licheng Lu, Founder, Kendal China
(me) Violet Su, Sales Consultant | IoT Solutions, Seeed Studio
During the panel discussion, I learned from other panelists about their insights and efforts in nature conservation, marine conservation, environmental protection, environmental education, and outdoor activities, etc. Meanwhile, I also shared how we can adopt technologies in better understanding the environment and take data-driven actions to better protect the environment, with examples of our partner OPEN's IoT education in sustainable agriculture as well as CO2 level detection of observing volcano eruption, etc.
the 7th China IoT Conference in Shenzhen, Dec 4, 2020
The 7th China IoT Conference was organized by Elecfans, a portal that shares professional electronic industry news, also a platform for electronic engineers and hobbyists to gather and share ideas & experience on product design, technical applications, etc. The 7th China IoT Conference was one of the most influential conferences that gather experts and practitioners in the field of 5G, Cloud services, MUC, sensor, gateway, and embedded systems, etc. to share their experiences and insights.
Shuyang was invited to give a keynote speech as well as join a panel discussion during this conference. Her speech is themed "Spark Innovation in Traditional Industries with IoT". Shuyang used real-world use cases to illustrate how the Industrial IoT products helped farmers/ farming industries to gain insights into soil conditions and plant health, as well as the living conditions of chickens, etc., thus practitioners can take timely and accurate actions to ensure optimized yield at reasonable inputs, etc.
As many of the events were moved online, we've also actively participated in many online events. Among the many online events, I'd like to mention the webinars that I was invited to share about agricultural innovation in China. There were three sessions, organized by our partners Kabakoo Academies in Mali, West Africa; SDG Solution Space in Geneva Switzerland; and Aksorn in Thailand respectively.
It was such an honor for me to share what I've seen in the trends of China's transformation towards a smarter and more sustainable agricultural industry. I won't tap into details here, but you can see the recap at this blog post, or watch the video recorded by our partner Aksorn (with Thai translation).
Projects empowered by Seeed IIoT in 2020
COVID-19 pandemic has brought in a new normal that features social distance and work-from-home working style. While many projects were postponed and need a longer time than expected to move forward, we were happy to see some projects deployed in the real-world and received positive feedback from our customers and partners. Among the projects in 2020, most are in the field of smart agriculture, with some in environmental monitoring. Here I will only share a few projects in this recap. And we are eager to see more projects take fruition in 2021!
Environmental Monitoring in Vanke Cloud City, Shenzhen, China
Blueberry Farming in Shanghai, China
Awards Received in 2020
While Seeed has been working on designing hardware products for more than a decade, we are taking baby steps in the field of designing industrial-grade products. And we are humbled to receive awards for our products and for Seeed as a company. The recognition from the industry experts is highly appreciated! Here are some of the awards granted to us in 2020!
"Green Tech Catalog 2020" was launched with a core aim of promoting technology transformation and application, especially the green tech that can contribute to the sustainable development goals. It attracted thousands of submissions, which range from product design, production, consumption/adoption/application to the recycling /upcycling of the products and technologies. And SenseCAP has been shortlisted in the Shenzhen Green Tech Catalog 2020! (see SenseCAP listed below)
A highlight of the 2020 Guangzhou World Agricultural Expo is the award ceremony of the Golden Cotten Award! The Golden Cotton Award expresses the two important elements – "hope" and "success" – in the agricultural industry, showing the high recognition of innovation among agricultural practitioners, enterprises, and institutes. And we were honored that SenseCAP was selected as "Innovative Technology for Agriculture" and won the Golden Cotton Award!
Seeed participated in the 5th CNIIAE – China (Nanjing) International Intelligent Agriculture Expo on September 6~8, 2020, and got selected as "Innovative Enterprise for Intelligent Agriculture", which shows the recognition of Seeed's innovative capacity in creating industrial IoT products for serving smart agriculture.
SenseCAP won the Excellent Product Award honored by the China Hi-Tech Fair committee, which shows a great compliment and approval to the design, technique, and application to the IIoT products that can make a great contribution to digital transformation in a wide range of industries.
Strategic Partnerships in 2020
Whatever we achieved, it's woven by all the efforts from our team members and we are grateful to have such a hard-working team who strive for the best, who embrace teamwork and work to reach consensus and collaboration, as always, and especially during the most difficult and challenging time.
Meanwhile, we could not go far without our partners and customers. In this changing world, we need to embrace open-mindedness and seek common ground to work together for a better future. Among the many newly-established or renewed partnerships in 2020 in the collaboration of the industrial-IoT industry, I'd like to highlight some below. For other partners who are not mentioned here, please do not be upset. We love you too! And we are looking forward to collaborating more closely with you, to join efforts in achieving more and reaching higher in the coming future!
Thanks to the tutorial written by Travis Teague, the Developer Growth Lead at Helium, now SenseCAP LoRaWAN sensors can work conveniently on the Helium network, making it convenient for users worldwide to use LoRaWAN devices in gathering data for their various IoT applications. And now our Product Manager Jenkin Lu is in continuous communication with Travis in working on decoders for more easily provisions, especially for education scenarios.
And that's not the only partnership between Seeed and Helium. Other ideas and projects are hatching, and you will see more updates in the near future!
With the liaison by Helium (Thank you!), Seeed and OPEN (One Planet Education Network) have established a partnership in 2020.
We are honored to join OPEN's Global IoT Education Initiative that aims at bringing next-generation technologies into classrooms and communities. By integrating technologies such as IoT sensors, gateways, and agricultural knowledge and practices, OPEN's teachers and tech experts guide the students and community residents to learn and solve real-world challenges such as food shortage, volcano eruption, and enhance mutual understanding of different cultures via music and other art forms. And Seeed is honored to be a part of this great initiative. We are positive that this partnership will go on for years, in education and other areas.
Seeed Joins Microsoft Marketplace and Geo Expansion Program
While Seeed has been cooperating with Microsoft for years, we are happy that the partnership is renewed and strengthened every year, with new projects, and more in-depth collaborations. Here I won't mention the exact products but would like to share that we joined Microsoft Marketplace this year and SenseCAP series products are now available on Microsoft AppSource as well as Microsoft Azure Marketplace.
And of course, there are many important projects with different partners coming in the new year. Remember to tune in for updates! THANK YOU!
Happy New Year 2021 ❤️
That's what I'd like to share with you in this recap. Thank you very much for your patience in reading this long blog post. While looking back at 2020, the first word that appeared in most people's minds might be "challenge". Speaking of the challenges in 2020, a Chinese word popped into my mind "危机" (pronounced as "wēi jī", meaning "crisis"), which actually combines the meaning of "danger" and "opportunity" into one word. This is a very good example of Chinese wisdom, implying that we should keep looking for opportunities in crisis, and seeking a way out in danger. We would like to say "THANK YOU" to all our team members, all partners, and customers who have been working with us close by and from afar. We appreciate your great partnerships. We wish you a happy new year! And let's hit refresh and march with a bold move toward the year 2021, which we believe will be a blast year, full of new opportunities!
About Author