Seeed Monthly for May: Wio-E5 CAN Development Kit, Community Projects, and more
For this wrap-up, we'll cover 1 long-waited new product & 1 Prime User Program, 2 campaigns, 3 exciting news, 4 pieces of IIoT solutions, 6 amazing community-built-up projects, and also 2 manufacturing tips!
Hey community,
It's raining a lot lately in Shenzhen, which brings a chill to the summer June. Ready for a new entry of Seeed Monthly? For this wrap-up, we'll cover 1 long-waited new product & 1 Prime User Program, 2 campaigns, 3 exciting news, 4 pieces of IIoT solutions, 6 amazing community-built-up projects, and also 2 manufacturing tips! 
Now, are you ready to explore this wrap-up? Fasten your seatbelt and enjoy the good read, for it's gonna be a long but informative write-up for you!
📰 News that You Might Wanna Know
01 Seeed Studio Launched Its Prime User Program to Invite Pioneers to Bring Digital Transformation
To support and enable more developers to apply AIoT/AI solutions to solve real-world issues in different industries, we're excited to launch Seeed Prime User Program. And to kick off the program, we're now calling for applications that can take good use of our SenseCAP LoRaWAN sensors. If you're building an IoT system on the LoRaWAN network (eg. Helium, The Things Network, and more), please apply to join Seeed Prime User Program to get free samples of these sensor nodes. Learn more here.
02 Open Application for "SDG Summer School 2022"
As Seeed Studio is a corporate partner for the SDG Summer School 2022, we will be sponsoring the maker space venue for participants in Shenzhen. Guess what! It's going to be at the amazing Chaihuo x.factory! By cooperating with the Geneva Tsinghua Initiative, WHO, the Global Fund, and the Institute of Global Health at University of Geneva we are happy to officially open the application form for participants in China to join the SDG Summer School 2022 in Shenzhen. More details here.
03 Seeed Now Has a New UK Warehouse 
Hey community, a piece of amazing news to share! We're now having a UK Warehouse to support our global sales network and to serve our customers in UK and Europe in a much efficient way. More details about the warehouse can be found here.
04 TinyML SZ Talks: Industry 4.0: Predictive Maintenance using Arduino Portenta H7 and Edge Impulse with Manivannan Sivan
On May 6, we were honored to have Manivannan Sivan, Lead engineer in the Computer Vision Department at Valeo, as the speaker of our episode of TinyML SZ Talks in May to talk about Industry 4.0: Predictive Maintenance using the Arduino Portenta H7 and Edge Impulse. We got more than 100 participants to joining from the globe. A big shout-out to the speaker Manivannan. More details here.
🤖️ Community Project Spotlight
01 How to Setup Your Own Remote Weather Station Using LoRaWAN by Parley Labs
Gathering weather data for remote location has always been very expensive due to data cost and infrastructure. However, with LoRaWAN long range coverage, we can install LoRaWAN gateway in a more accessible area and install the weather station far from the gateway that can measure temperature, humidity, pressure, light intensity, rainfall, particulate matter, wind speed and wind direction. In this project, I will show you how to use a Seeed SenseCAP M1 LoRaWAN Gateway, a SenseCAP S900 weather station along with a Dragino RS485 to LoRaWAN converter to have a remote weather station setup working on Helium Network. More to read.
02 BLE AI-driven Smartwatch Detecting Potential Sun Damage by Kutluhan Aktar
Sun exposure may be detrimental to our health. Kutluhan Aktar made a wearable device capable of tracking certain environmental factors and translating them into a risk level for sun damage, which used XIAO BLE, Grove UV sensor, with EdgeImpulse. More details.
03 Cistercian keyboard by Tauno Erik
Tauno Erik made this amazing Cistercian Keyboard, a keypad with cipher numerals based on an XIAO RP2040 and a custom Fusion PCB, which contains four columns and five rows of switches. Read more.
04 MCube box – a personalized message box by Sashrika Das
This 3D printed box is stuffed with Wio terminal and NeoPixel ring. When the box receives any picture or messages, the ring turns pink and buzzes to notify her mother. More details.
05 Multi – MIDI controller/router, sound generator by Pangrus' Electro Acoustic Lab
multi, powered by Seeeduino XIAO, is a multifunction device whose primary use is that of the midi controller, of very small size. Unlike the latest generation commercial controllers, it has a USB port and two DIN connectors. More details.
06 Vote to Win a $50 Coupon for the Seeed Project of the Month-MAY
Ready to vote for the Project of the Month-May? This time we selected 4 top popular projects for you to vote for, and two lucky voters will get a $𝟓𝟎 Seeed coupon! Winner announcement on June 13th. Vote to win now! 
🔩 New Open-Source Modules & Updates
01 New Release: LoRa-E5 CAN Development Kit & Its Giveaway
We've launched the LoRa-E5 CAN Development Kit lately. We can't make it without the community power and the spirit of open source. To show our gratitude, we're now giving away 3 LoRa-E5 CAN Development Kits to the community! Winner announcement on June 20, 2022. Join now.
02 No code Edge AI Tool Application: Warehouse Security Demo
This demo shows how to take 4 steps to set up an AI-enabled warehouse IP camera to ensure warehouse security. When the system detects an intruder, an altered email will be sent to the owner of the warehouse. More details.
03 Everything about TensorFlow Lite and Start Deploying Your Machine Learning Model
This blog covers everything about TensorFlow Lite and gets started with deploying your machine learning models, and check out our recommended XIAO BIE sense.  More details.
04 VoiceNeeded! Shall We Make These 2 Wio Terminal Powered Projects as Project Solution Kit on Our Official Store?
We're collaborating with the community to bring more amazing community projects to the market as a full-stack project solution. Now, we're thinking to add 2 of Wio Terminal-powered projects to our official store: WioHeliumMoniter and PasswordVault. We need your valuable input. More details here.
💻 IIoT Devices, Solutions & Their Success Cases
01 Tutorial: Build Your own Grafana Dashboard and Interface with reTerminal
Today I will introduce Grafana, an easy-to-use and adaptable data visualization tool. And recommended the best Raspberry Pi and screen integrated device compatible with Grafana. Hope it will help you to start using Grafana for data visualization. More to read.
02 OTA Updates for Seeed Edge Devices: to Secure Remote Management and Update for Large-Scale Deployment
Over-The-Air (OTA) update is a way to remotely update your software on an embedded system. With OTA services, hardware manufacturers can easily update board support packages (BSPs). For this post, we'll wrap up 3 OTA tools from our partners Allxon, Mender and Balena specifically for Seeed's Edge devices. More details.
03 Knife Detection: An Object Detection Model deployed on Trito
For this demo, based on the de-occlusion module in the Triton Interface Sever the reComputer for Jetson (reComputer J1010), we deployed a prohibited item (knife to be specific) detection algorithm in the Xray images. It can detect objects during the security inspection. More details.
04 reComputer Jetson-10-1-H0 Co-launched on May 5th
One of our reComputer Jetson mini-PCs – Jetson-10-1-H0, which is built on NVIDIA Jetson Nano system-on-module and designed for Edge AI applications, is shipping today! In addition to purchasing on our official store bazaar, It is NOW also available at 17 COUNTRIES owing to our trusted distribution partners! Read more.
🏭 Manufacturing with Seeed
01 New Fusion Customization Services without MOQ
We're happy to announce that we're planning to offer 3 Customization Service Options for Seeed's hardware devices which include Software/Firmware Service,  Logo Customization, and Module Customization. More details.
02 3 Alternatives to ATMEGA-328P-AU to Bypass Chip Crisis
The global chip shortage emerged in 2020 and is an ongoing problem where the demand for integrated circuits is greater than the supply. In view of current ATMEGA328P-AU supply shortage and inflated prices, what are the alternatives? Click to read more.
03 Manufacturing Case Study: med Spec Mk.I – a medical tricorder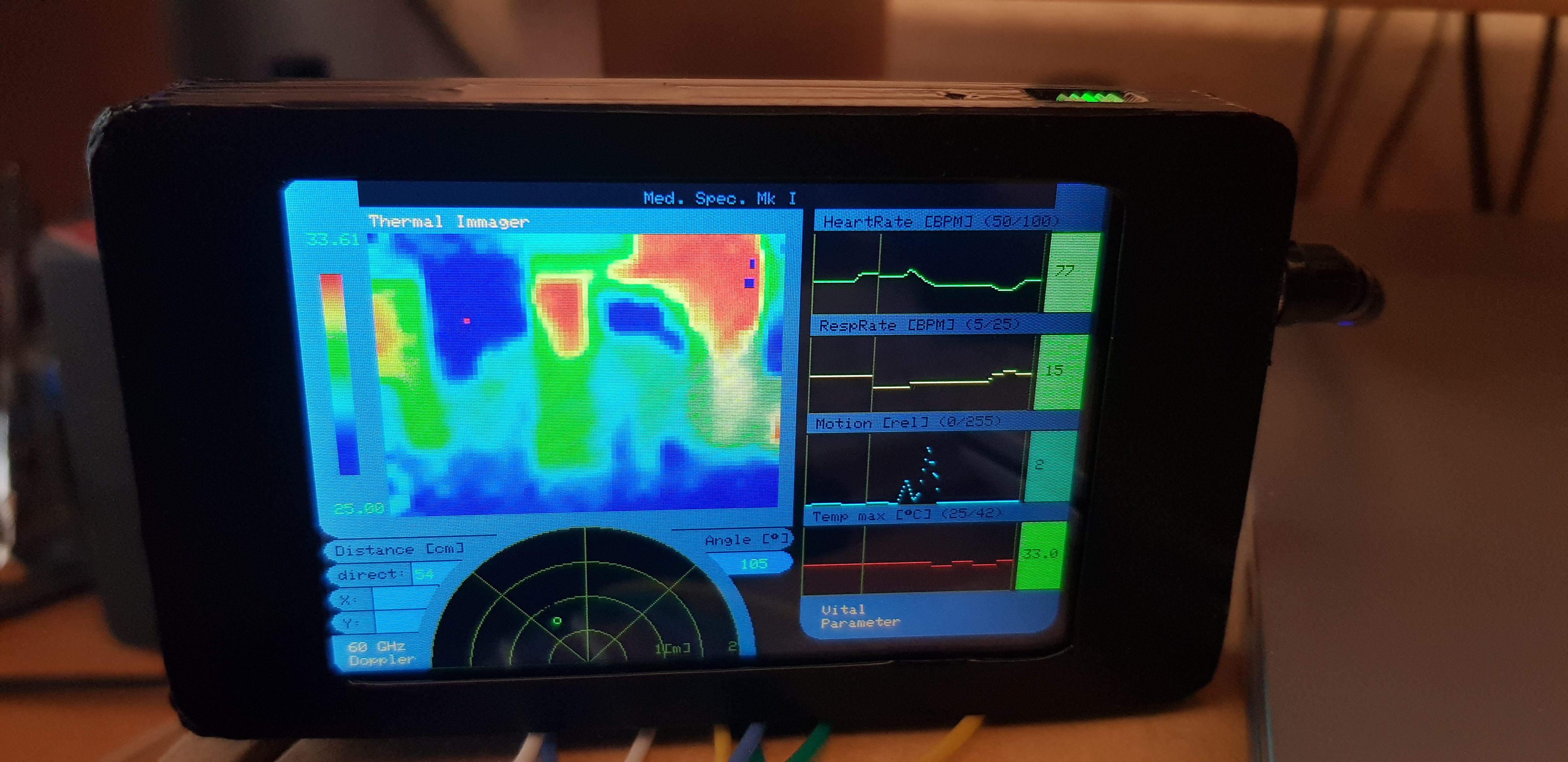 This device is based upon the ESP32 TouchDown to gather vital signs of humans without contact. Up to a range of 2 meters movement of one's Lungs an Heart can be measured. Also, the position of the patient can be located. A thermal imager provides body temperature information. For this project, Seeed Fusion offers custom PCB/PCBA manufacturing for 60GHz mmWave Sensor – Breathing and Heartbeat Module designs. More details.
04 Fusion PCB Design for Manufacture Brochure Is Now Available in 15 Languages
To make the DFM easier for you, our Fusion team has created a PCB Design for Manufacture Brochure, where you can find all the manufacturing and engineering expertise that we accumulated over the past decade. The brochure is available in 13 languages including English, Japanese, Russian, French, Portuguese, German, Spanish, Bengali, Hindi, Italian, Hungarian, Arabic, Maori, and Romanian thanks to many contributors in the community! Now the Swedish Edition is made possible by Mesba Ahmed who helped us do all the translation and proofreading! To download the brochures in all available languages, click here.
#Notes at the end.
If you're new to this session, here is a brief intro. We have gotten dozens of requests over the years for a Seeed Monthly Newsletter. Although we already have a newsletter for weekly updates, we still need a place to host overall information about what's happened on a monthly basis. It can offer an efficient and friendly way to get updated for the whole community. And that's what we expect for our Seeed Monthly Wrap-ups. Instead of putting it as a subscribe-to-read, we're publishing them on our blog, keeping it as open and accessible as possible for the whole community. For each entry, we will cover awesome projects from the community, campaigns that we are running, new products, IIoT Solutions, and even secret recipes for prototyping and manufacturing.